Viewing 1 - 10 of 10 stories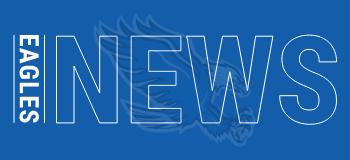 SchoolTool mobile app now available for JEMS and JEHS:

A SchoolTool mobile app is now available for the middle and high school. Parents and students can now log in to see information about current schedules, assignments and attendance. Also, users will be able to receive push notifications when teachers submit assignment grades. The instructions to download the app are below. 1. On your smart phone, download the SchoolTool mobile app. For iOS devices, go to the Apple Store . For Android devices, go to the Google Play Store . 2. Install and launch the app. 3. At the login window, use the following address as the SchoolTool URL in the first box. Be sure to type in exactly as it appears below. https://je.schooltool.cnyric.org/schooltoolweb/ 4. Enter the same Username and Password to log ...
Soccer Clinic for grade 5-12 students on Aug. 6-10:

Students in grades 5-12 are invited to a soccer clinic from 5:30-7 p.m. on Aug. 6-10 on the Jordan-Elbridge High School fields. The boys and girls JE soccer coaches will be focusing on soccer fundamentals including: dribbling, passing, shooting, receiving a pass, goal-keeping and transitions. The clinic is $65 per athlete and includes a T-shirt. Walk-in registration will take place before the camp starts from 4:30-5 p.m. (Late registration may mean your child will not get a T-Shirt). Please make checks payable to: Town of Elbridge Recreation (in the memo area of the check write-JE Soccer Clinic- funds raised from the clinic support the Jordan-Elbridge Soccer Program). Athletes should be prepared with lots of water, cleats, shin guards and a snack. If your child would like to ...
Summer sports physicals on July 18 and 25:

Summer sports physicals for students in grades 7-12 (for the 2018-19 school year) will take place from 9 a.m. to noon on Wednesday, July 18 and 25, in the Jordan-Elbridge High School nurse's office. Students are advised to come early. All students must bring an enclosed physical form, filled out and signed by a parent/guardian, or the physical will not be done. If you have a copy of your child's current immunization record, please attach it to the physical form for the physician to review so the nurses can update your school immunization record. The physical will also meet requirements for the State Mandated grade 7,9 and 11 physicals. Additional forms will be available in the high school and middle school main office or online. If your child has already had a recent ...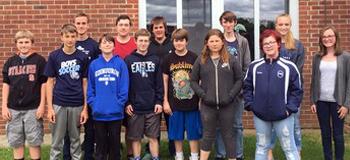 JE Musical Players stage crew wins Syracuse High School Theatre Award:

The JE Musical Players stage crew won the outstanding stage crew award for "Young Frankenstein" during the 2018 Syracuse High School Theatre Awards on June 3. It marks the second time in four years the crew has won the award. In total, JE was nominated in 10 categories including outstanding overall production of a musical. The 20-member stage crew includes students in grades 6-12. Technical director Drew Deapo said his goal is to have the upperclassmen serve as mentors to the younger crew members. He attributed the win to the students working well together as a team. He said they understand the importance of executing scene changes efficiently and effectively as one unit. "Often backstage, there is a very specific choreography of set pieces going on just like ...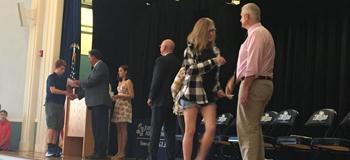 Eighth graders "move up" during ceremony:

A total of 102 eighth grade students at Jordan-Elbridge Middle School said farewell to their school and hello to high school during a moving up ceremony on June 19. Parents, teachers and administrators filled the auditorium as the students eagerly looked on. The ceremony featured various speakers who all praised the students for their efforts and encouraged them to explore the many opportunities at the high school before they graduate in 2022. Superintendent James Froio referred to the high school program of studies and talked about options in social studies, photography, technology and more. He also talked about the college credits available to students, and said this year's valedictorian, Hugh Schader (who is headed to Harvard University), will graduate with 48. "We ...
Congratulations to the Class of 2018:

The Class of 2018 commencement ceremony on June 23 at Jordan-Elbridge brimmed with excitement as a total of 93 students crossed the stage to accept their diplomas. Superintendent James Froio welcomed The Class of 2018 celebrates by throwing their caps into the air. the packed auditorium to the district's 54th commencement ceremony, and spoke about the secret of success. He said success is "living a happy and fulfilling life," and that the graduates have to decide to be successful. He shared a story by Michigan State University motivational speaker Dr. Eric Thomas, who once went to a success guru and was told that when you want to be successful as much as you want to breathe, you will find success. "You have to make sure you want it inside," ...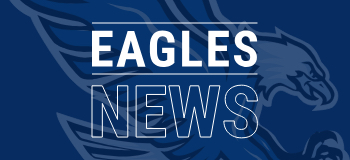 Voters approve 2018-19 JE school budget; elect 2 board members:

On May 15, Jordan-Elbridge Central School District voters approved the district's $31,027,272 budget for 2018-19 with 288 yes votes to 71 no votes, and elected two Board of Education members. Voters supported an increase of $2,500 for the Elbridge Free Library (278 yes, 80 no) and an increase of $2,500 for the Jordan Bramley Library (280 yes, 79 no). Voters also elected two candidates for two open Board of Education seats. William Yard received 286 votes and will serve a three-year term that runs through June 30, 2021, and Susan Fordyce received 284 votes and will complete a term of office that runs through June 30, 2020. "We are thankful to all of our community members who came out and voted today," said Superintendent James R. Froio. "Our residents ...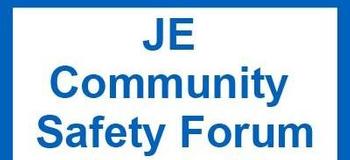 JE Community Safety Forum on March 22:

Learn about school safety measures and how you can help during the JE Community Safety Forum at 7 p.m. Thursday, March 22, in the Jordan-Elbridge High School auditorium.
More than 45 JE students' work published in Three Lakes Sampler:

The artwork and writing of more than 45 students from the Jordan-Elbridge Central School District will be printed in this year's Three Lakes Sampler, which is published by the Talented and Gifted Advisory Committee of Cayuga Onondaga BOCES. The Three Lakes Sampler features a collection of art and writing that recognizes the creative work done by students in the component districts. An opening reception celebrating the works runs from noon-5 p.m. Sunday, March 18, at the Schweinfurth Memorial Art Center in Auburn. The exhibit then continues through April 15. The following students were recognized for his/her art: Elbridge Elementary Evelyn Bennett Kaelyn Bratt Daniel Ferrare Colten Burnham Keitlyn Aguilar-Lopez Annabella Guarnieri Sophia Rinaldo Dylan ...
Sophomore earns honorable mention at regional Shakespeare competition:

Jordan-Elbridge High School sophomore Tyler Piper recently earned an honorable mention in the regional round of the National Shakespeare Competition at the Syracuse Stage. He was one of 119 contestants from 18 Central New York school districts. Piper advanced to the regional round on Jan. 29 after he and five other students from JE participated in the local competition. Each participant performed a Shakespearean monologue of up to 20 lines, and was judged by a faculty panel. English language arts (ELA) teacher Kathryn Fleury Eldridge coached all the participants. Piper earned first place with his portrayal of "Launce" from Two Gentleman of Verona, and sophomore Emilie Pearl earned second place as "The Jailer's Daughter" from Two Noble Kinsmen.
Viewing 1 - 10 of 10 stories