Next >> Viewing 1 - 20 of 161 stories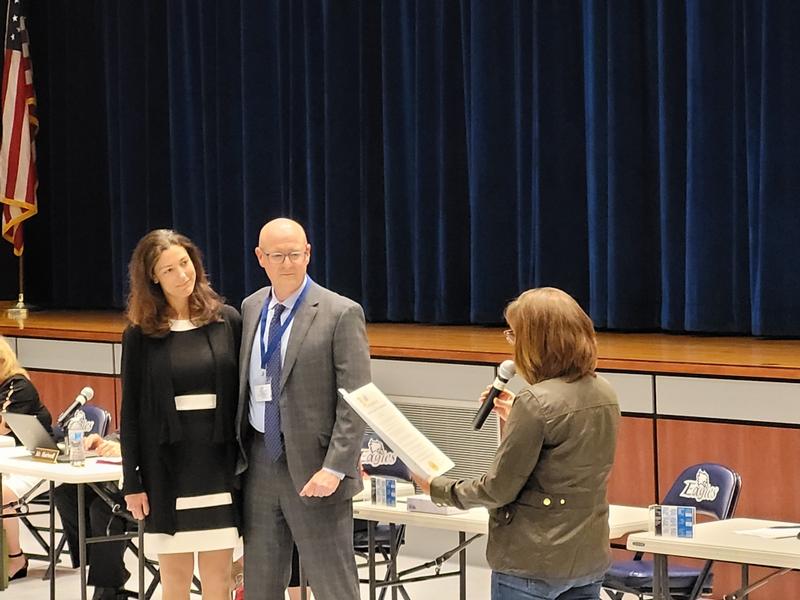 Superintendent Froio presented with proclamation:

Superintendent James Froio has been honored with a proclamation from Senator John Mannion. The proclamation was presented to Superintendent Froio as a surprise during the June 16 th Board of Education meeting. "I really appreciate this," said Superintendent Froio. "We couldn't have done what we accomplished without the community coming together the way we have. I'm just blessed to be in this district with such wonderful community members, awesome students, support staff and teachers that are second to none. I will always treasure this, thank you very much." The proclamation commends Superintendent Froio for his outstanding leadership during the school year, amid a global pandemic. It goes on to mention the district's safety measures that ...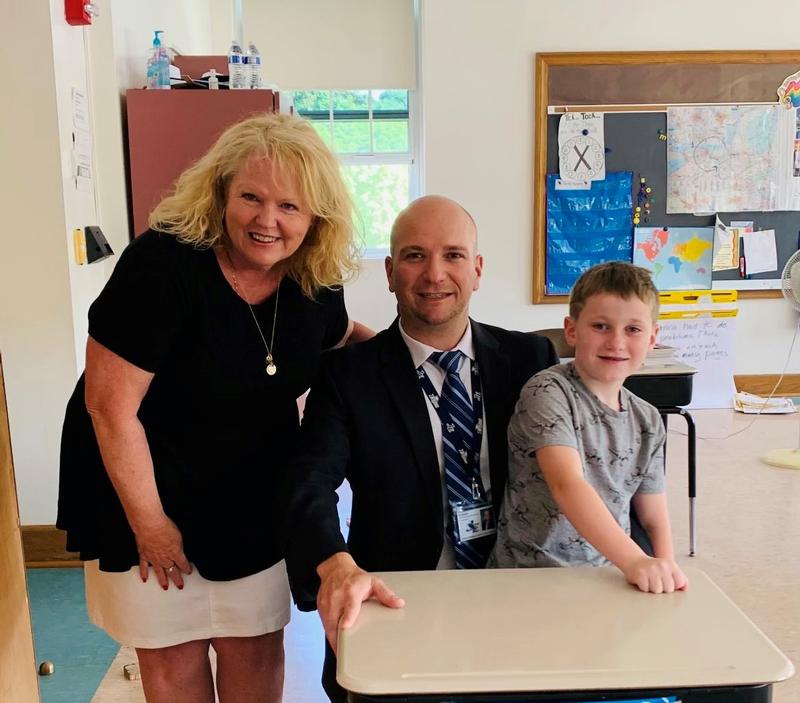 From the classroom to a career:

RJ Hartwell and Jodi May have known each other for a long time; since RJ was in second grade and May was his teacher. Now, as Hartwell celebrates a new title within Jordan-Elbridge Central School District, it's May who helped him get there. "The world really isn't that big of a place when you get down to it," said Hartwell. Hartwell is the Assistant Superintendent of Business and Finance at JECSD. He started as a teacher, and then became principal of Elbridge Elementary, and finally was the School Business Administrator, all ahead of this new position. The one person who was with him each step of the way, from shaping his childhood education to his career, is Jodi May. "It's rewarding to have this kind of homecoming back to my small town, ...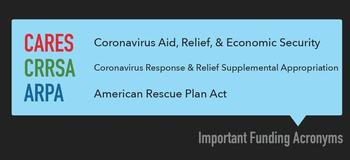 District staff discusses how to spend recently-acquired federal money:

Jordan-Elbridge Central School District is seeking input from staff members to help decide how to spend more than $3 million received from federal funding. The money came in three waves: Coronavirus Aid, Relief & Economic Security (CARES), Coronavirus Response & Relief Supplemental Appropriation (CRRSA), and the Appropriation American Rescue Plan Act (ARPA). The money could be used for reasons such as early childhood education, social-emotional learning, support for English Language Learners, needs of low-income learners, maximizing in-person learning, or school facility and repairs. Staff members were asked to fill out ideas for spending through a survey. As of June 1 st , 214 ideas had been submitted. You can see the various ideas below. The federal funding can be used ...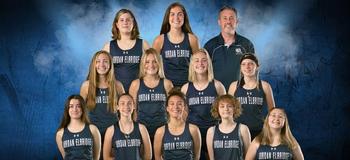 Spring sports teams recognized with scholar-athlete status:

Several spring sports teams have been recognized as NYSPHAA Scholar-Athlete teams. That means 75% of the team's roster has to have an average GPA of 90 or higher. "Kudos to our players, coaches, and staff for their work during this uncertain school year," said Athletic Director Daniel Stadtmiller. The following teams were recognized as scholar-athlete teams: Girls Varsity Outdoor Track – 8 individual scholar athletes Boys Varsity Outdoor Track – 4 individual scholar athletes Girls Varsity Lacrosse – 5 individual scholar athletes The following teams did not average a 90 or above, but did have individual scholar athletes: Softball – 3 individual ...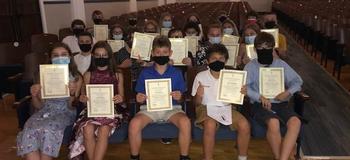 JEMS inducts students into National Junior Honor Society:

Jordan-Elbridge middle school welcomed new members into the National Junior Honor Society Wednesday. The ceremony was recorded so that parents and families are able to watch from home. Twenty-one students were inducted, each receiving a certificate and a NJHS pin. The students had to complete a community service project proposal and show excellent academic leadership throughout their 7th grade year. The students who were inducted are: Alaina Anderson, Nina Bartolotta, Nolan Brunelle, Mick Chmielewski, Daniel Conrad, Abby DelFavero, Cameron Fraher, William Haumann, Violet Hernandez, Alex Jay, Gabriel Jones, Garrett Jones, Zoie Karcz, Ryan Long, Alexis Marion, Catherine McGinn, Owen Pardee, Caitlin ...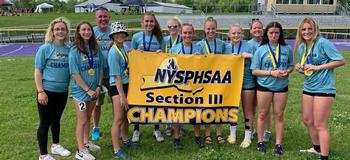 Celebrating spring sports success:

It's been a big week for Jordan-Elbridge varsity sports. The girls varsity track and field team has been named The New York State Public High School Association Section 3 B2 Champion! This is the first time in school history the team has brought home the section title. The girls varsity softball team also deserves a shoutout. The team has been named Onondaga High School League Liberty Division II Champions! Congratulations to both teams, and all our spring sport athletes on an incredible season!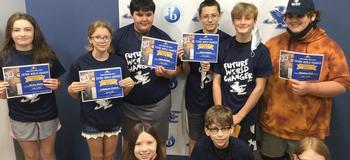 Students honored as 'Future World Changers' for month of May:

Nine Jordan-Elbridge Middle School students are being recognized as 'Future World Changers.' Each month, teachers nominate students for reasons such as excelling in class or making significant progress and growth. May's 'Future World Changers' are 6 th graders Dorothy Bratt and Emma Hickey, 7 th graders Catherine McGinn, Daniel Conrad, John Peters and Olivia Smith, and 8 th graders Roanan Ross, Alexander Kunz and Greg Daniels. Students receive a t-shirt and a certificate for their hard work. Their names are also displayed on the marquee in front of Elbridge Elementary. Dorothy Bratt - 6th grade Emma Hickey - 6th grade Catherine McGinn - 7th grade ...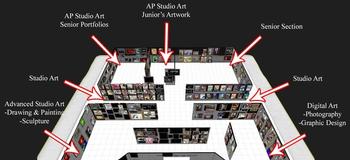 Virtual art show link launches:

For the Class of 2021, many of the usual senior year activities have looked a bit different due to the pandemic. When it came to planning the annual art show, teachers Katie DeLorenzo and Theresa Bondgren wanted to make things as interactive as possible so that all student artwork can be recognized. "That's my favorite thing, when people look at my artwork, and I can see their expressions," said senior Elizabeth Bartoszewski. By using a new online system this year, student work has been set up in a virtual showroom. Anyone can access it and take a tour, clicking on individual pieces to expand them and get a closer look. "It's much better than the slideshow from last year," explained fellow senior Margo Miller. "This year you can actually ...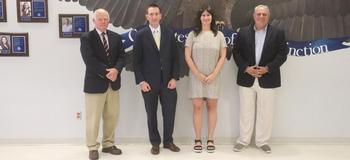 2021 Graduates of Distinction inducted:

Congratulations to the 2021 Graduates of Distinction, inducted during a ceremony at Jordan-Elbridge High School this week. The inductees are class of 1963 graduate Kenneth L. Bush, Jr., class of 1978 graduate Dr. Peter H. Khoury, class of 1990 graduate Jeffery Alan Green, and class of 2001 graduate Angela LaManna. Kenneth Bush, Jr. owns Bush Funeral Homes in Jordan and Elbridge. Bush, Jr. is also a county legislator and serves on various state and county advisory boards. An active member of the community, Bush, Jr. is the Jordan Memorial Day Committee Chair and a member of the Greater Baldwinsville Chamber of Commerce. Dr. Peter Khoury is the President and CEO of Ology Bioservices, Inc. Khoury's company helped to manufacture the COVID-19 vaccine. The company has also received ...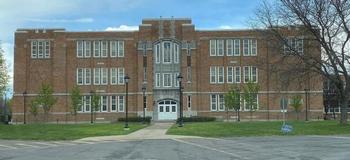 End-of-year schedule for middle schoolers:

As we near the end of the school year, please see a message below from JEMS Principal David Shafer. Dear Families, I want to thank all of our families for their patience and support during a most unusual year of school. I could not be prouder of all that we have accomplished in our learning community this year. The kids have been tremendous. As we come to the end of the year, I want to share the schedule for the end of the school year. The last day of school will be Thursday, June 24 th with an early release at 11:30 am. We will have grade level academic awards on June 24 th for students only. Final Exams Grades 6-8: Monday, June 14 th - Monday June 21 st Check Google Classroom for each grade's schedule ...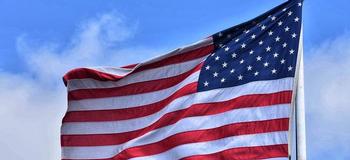 Middle school students represent JE at Elbridge Memorial Day Ceremony:

Two Jordan-Elbridge Middle School students participated in the Elbridge Memorial Day ceremony this year, continuing an annual tradition. Sixth graders Annabella D'Arrigo and Westley Maywalt were chosen to represent the school. The students say getting up in front of the entire town was intimidating, and both admit they were nervous before the ceremony. Annabella though, said she was also thrilled to have the opportunity to participate. Annabella read two poems, "In Flanders Fields" by John McCrae and "American Hero" by Roger Robicheau. Westley read The Gettysburg Address and the poem "Freedom Isn't Free" by Kelly Strong. The two worked with teacher Drew Deapo to prepare for the readings. "They read with perfect inflection, poise ...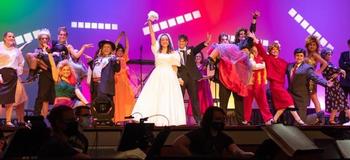 "The Wedding Singer" now available to rent:

If you missed your opportinity to watch the JE Musical Players' production of "The Wedding Singer," you now have another chance! The show will be available to watch on demand. You can rent the musical comedy through Sunday, June 6th for $20. To do so, click here . Once you rent, you'll be able to watch as many times as you'd like for 48 hours. Here's what to expect once you rent the production: The year is 1985. The place is New Jersey. A wannabe rock star (aka a professional wedding singer) is left at the altar and finally changes his tune. The Wedding Singer takes us back to a time when hair was big, greed was good, collars were up and a wedding singer might just be the coolest guy in the room. Based on the hit Adam Sandler movie, The Wedding Singer's ...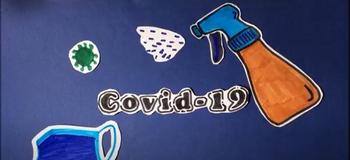 Learning language through an art project:

Freshmen Ella Jewsbury, Ryleigh Gill and Artemio Tomas recently worked together on an art project that also taught them a bit about language. Artemio speaks Spanish, and as the three got to work on their stop-motion picture project, the language barrier sparked an idea among the classmates. Ella and Ryleigh helped Artemio learn new words in English, and Artemio helped Ella and Ryleigh translate those words into Spanish. "We added the Spanish in there too and added credits at the end so people could see what the words meant," said Ella. In the end, the group sharpened their language skills while making some new friends. To check out their final product, click here , or scroll down.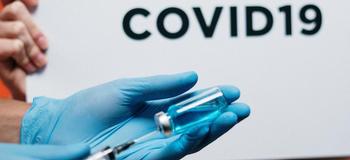 JE COVID-19 vaccination clinic details:

The Jordan-Elbridge School District will be hosting a COVID-19 vaccination clinic on Thursday, May 27th from 8:30 a.m. to 12:00 p.m. in the JEMS Gymnasium. Any student 12-years-old and up will be eligible to receive the Pfizer vaccine. The second dose will be scheduled during the week of June 13th. A printed and signed parent consent form will be required in order to receive the vaccine. A guardian does not have to be present as long as the consent form is signed. Only one consent form is required for both doses. The consent forms have been mailed to middle school parents and guardians, and given to high school students to take home. Pre-registration for the vaccine is also required. You can call (315) 253-8477, Prompt 9, Extension 407 or email COVID19@easthillmedical.com ...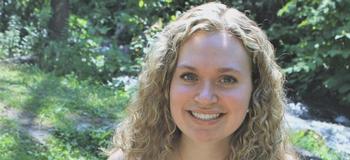 Senior becomes second JEHS student to receive OCC degree:

Senior Laura Alcock has set big goals for herself since middle school. That's when she decided she wanted to take classes at Onondaga Community College, while simultaneously completing her normal high school courses. "All of this hard work allows me to hold two diplomas at graduation this year," said Laura. Along with graduating in the top ten percent of her senior class, Laura is receiving a degree in Liberal Arts and Sciences from OCC. Laura is the second Jordan-Elbridge student to ever reach this accomplishment. She's been doubling up, taking both high school and OCC classes since her sophomore year. She's even had to take classes over the summer to make sure she finished her degree on time. "This took a lot of sacrificing," ...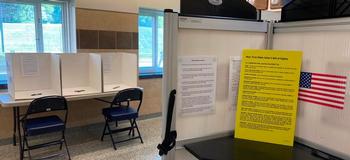 Voters approve 2021-22 Jordan-Elbridge School District budget; elect two board members:

On May 18, Jordan-Elbridge Central School District voters approved the district's $33,812,000 budget for 2021-22 with 214 yes votes to 41 no votes, and elected two Board of Education members. The approved budget carries a 0 percent tax levy increase for the third year in a row, and the fifth time in six years. The budget increases spending by 7.22 percent, or $2,422,000. "Following a challenging year, we are excited to be able to restore all student programming to where it was before the pandemic began," said Superintendent James Froio. This budget includes bringing back the in-person 3-year-old Program (3YP), and all athletics and co-curricular activities. "We are thankful to all of our community members," added Froio. Voters also elected ...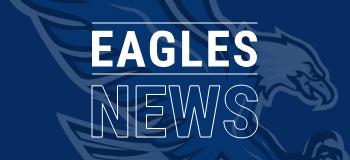 Wall of Honor nominees due by June 4th:

Wall of Honor nominations for 2021 are due by Friday, June 4th. Nominees do not have to be an employee of the district to receive this award. Past honorees include: Joyce McManus, Doug Milton, Herm Fedrizzi, Vickie Jewett, Diana Rynkiewicz, Doris Baird, Noel Hotchkiss, Gregory and Shirley Drummond, Donald Bard Sr., Susan McCoy, Nancy Rizzieri, Mary Bartoszewski, Louis Barbaglia, Cathy Meixner, Gina Clifford, James A'Hearn, Roxann Sherman, Ken Bush and Mary Lou Varga. You can find the form here .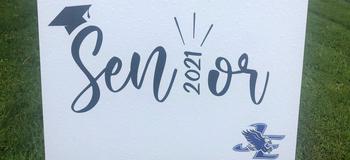 "Senior Love" campaign a success:

JEHS seniors were celebrated over the weekend, in a special parade as we near the end of the school year. Each senior was visited by staff members, who delivered "senior 2021" signs to place in the students' front yards. There were four different routes, led by three local fire departments, making sure all seniors were visited. There's no doubt that all students have endured a lot of changes over the past two years. For JEHS seniors, that has included the loss of a classmate, the cancellation of their junior prom, sports cancellations and a complete shut-down during the final three months of their junior year. Seniors are now working through a modified version of senior year. This celebration was meant to show support for seniors as they near graduation. ...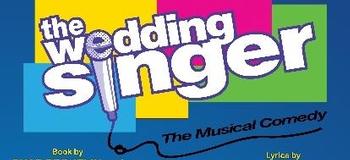 How to watch upcoming musical "The Wedding Singer":

Get ready to party like it's 1985! The Jordan-Elbridge Musical Players will digitally livestream its upcoming show "The Wedding Singer - the Musical Comedy." It will premiere on May 21st and May 22nd at 7:30 p.m. Digital streaming tickets are $25.00 for the whole family, and can be purchased here . The hilarious musical comedy is based on the 1998 Adam Sandler movie of the same name. It follows the story of a wedding singer who is stood up at the altar, only to fall in love with a waitress who is unfortunately engaged to another man. The musical production is a love letter to the 1980s, with big hair and lots of pop culture references including boom boxes, original large bag cell phones, and the Rubik's Cube. The show will even feature some celebrity look-alike ...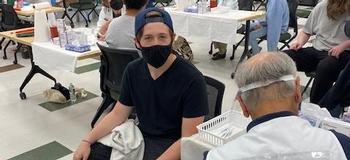 Weekly testing continues at JECSD as surrounding community works to offer more vaccination clinics:

As more teachers, staff and students within the Jordan-Elbridge Central School District receive their COVID-19 vaccinations, protocols within the schools are remaining the same to stop the spread of the disease. Each Monday, 200 students at JEHS are tested. That's everyone who participates in extra-curricular activities. For the last two Mondays in a row, all 200 students tested negative. Along with this weekly testing, cleaning protocols haven't eased up. At each school, rooms are cleaned between classes, and masks and social distancing remain requirements. Vaccinations also remain a top priority in the fight against COVID-19. Next week, 28 high schoolers will receive the second dose of their Pfizer vaccines. It's thanks to a clinic hosted by Onondaga County at ...
Next >> Viewing 1 - 20 of 161 stories