School resource officer entering sixth year at JE
Jordan-Elbridge school resource officer Timothy G. Siddall enters his sixth year on the job this year.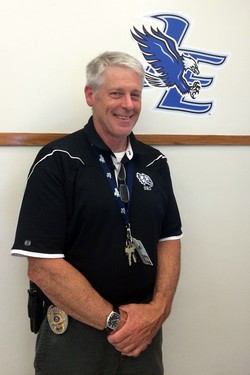 Siddall, a former New York State Trooper and Elbridge station commander who is now retired, brings more than 30 years of experience to the district.

He graduated from Jordan-Elbridge in 1977, earned his bachelor's degree in psychology from SUNY Albany,
and became a New York State trooper in 1983.

During his career, he has worked on a drug enforcement task force in New York City and was also an investigator for 16 years.

At Jordan-Elbridge, his compensation is $50,000 per year and he will not receive any additional benefits. In accordance with New York State Education Department regulations, Siddall's employment has been approved under Section 211 of Retirement and Social Security Law and 80-5.5 of Commissioner's Regulations, and he is allowed to collect his pension while employed at the district.

His duties on campus include acting as security for the buildings, staff and students, assisting and reviewing all safety procedures and policies, and often talking to students about issues they're facing and helping to provide some strategies to get through them. He is stationed on campus and also works the prom, senior ball and some games.