AP art class at JEHS gains popularity amongst students; gives them a chance to earn college credits
Last year, three students in the AP art class at Jordan-Elbridge High School earned credits for college. In the coming years, the teachers hope that number will rise even higher considering they now have 12 students in the class and many other students asking about it.

AP art – taught by Katie DeLorenzo and Theresa Bondgren – is now in its second year. Students are enrolled in the class for two years. In their first year, students work on exploring art techniques that are a part of drawing, painting and computer arts (or a combination of them all). The teachers work with the students to discover their style and prepare them for their "concentration pieces," which are works that have a theme based on their personal beliefs and experiences.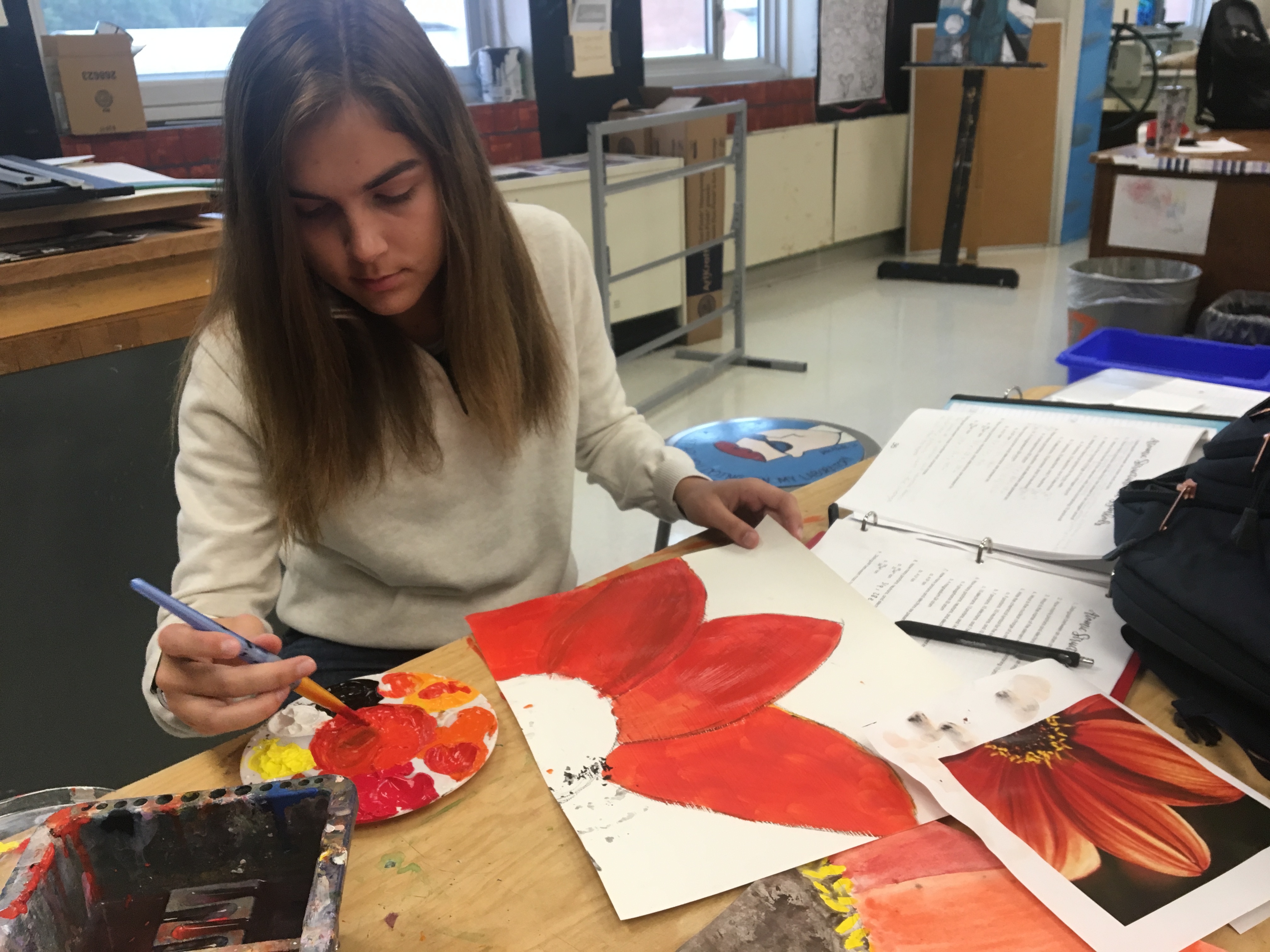 "I love the teachers and the freedom they give you to explore your talents," junior Jazmyn Stevenson said. "You can come into the art class anytime and they'll help you."

Eventually, for their concentration, students create 15 pieces for an evaluation based on their theme. Students submit the pieces along with an essay explaining their theme and how each piece is associated with it. Prior to submitting their final portfolio, students also partake in an open critique where they will display at least 12 pieces.

"During the critique, students receive constructive feedback from fellow classmates, administration, faculty and staff," DeLorenzo said. "In addition, students must send in five of their best pieces to the AP College Board so they can be judged in person. It is an amazing amount of work and pressure."

The number of college credits a student receives depends on their individual score and the college they plan to attend.

Senior Kyra White – who plans to major in art in college – calls the class challenging, and appreciates the work she has to put into it.

"Art isn't just supposed to be pretty, it has to have meaning," she said. "Everything we do in class has to have a reason behind it."

The arts program at JE has enjoyed increasing success in recent years and student artists have received numerous accolades. In the 2019 CNY Scholastic Art competition, 22 students from JEHS received 34 awards. Ten students earned gold keys, or the highest honor.

Bondgren credits the success of the art program to a collaborative culture.

"The relationship that both Mrs. DeLorenzo and I have established over the past few years has been one of collaboration and fun. We feed off of each other's ideas and energy, and the students see that and want to be a part of it," she said.

"It is often expressed to us that being a part of the art department feels a lot like being a part of a family. It's amazing to see students not only achieve their own successes, but also genuinely cheer for each other's accomplishments."