Tickets on sale now for streamed JE musical production
Tickets for the Jordan-Elbridge Musical Players rescheduled production of "The Hunchback of Notre Dame" are now on sale online.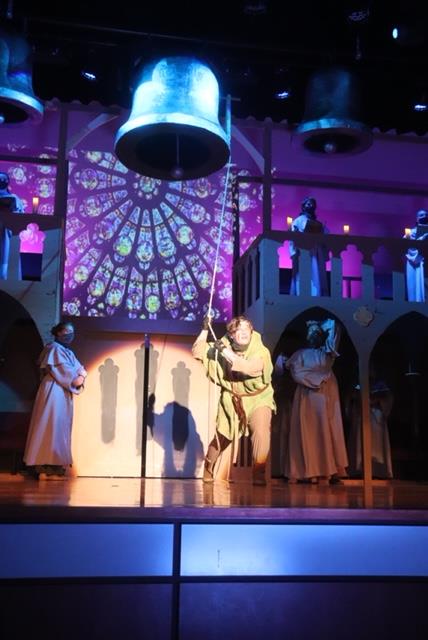 The musical will be streamed for the public at 7 p.m. Oct. 23-24 and 2 p.m. Sunday, Oct. 25. Single viewer tickets are $15 and family tickets are $50.
To buy tickets, click here.
Based on the Victor Hugo novel, the production features songs from the Disney film. It showcases the film's Academy Award-nominated score, as well as new songs by Alan Menken and Stephen Schwartz. The musical begins as the bells of Notre Dame sound through the famed cathedral in 15th century Paris, and "Quasimodo," the bell-ringer who longs to be "Out There," observes all of Paris reveling in the Feast of Fools.
Director Denise Deapo said that the musical players produced a dance-heavy production two years ago, and they wanted to highlight singing this year.
"We also wanted to look for a newer show, and this revised version of 'The Hunchback of Notre Dame' was conceived in 2014. We also wanted the cast to experience a more serious show. The themes also happen to tie in nicely to our positivity project at the High School," she said.
"The singing obviously will make this show great. There are some big voices on stage. I also think the audience will find the storytelling aspect of this show very interesting. It's a show that comes to life right before your eyes."
Deapo added that this is writer Alan Menken's most intense score.
"That being said, there are also some flashy dance numbers in the show too," she said.
This year's show has also been reworked with COVID-19 safety protocols in place. All actors/actresses wear masks. If they can be six feet apart speaking, the mask can come down to allow for clearer line delivery, and if they can be 12 feet apart, the masks can come down for singing clarity. Each night, all masks are washed and each costume is sanitized. The production crew also changed some of the blocking and other parts of the show from the original production in March with COVID-19 safety in mind. The crew is also following the guidelines set by the CDC for high school theatre programs.
According to the JE Musical Players: "Please understand that while the streaming option does offer our show to remote viewers, we feel strongly that streaming is not a comparable substitute for a live, 'in-person' theatrical experience. Theatre is unique in the person-to-person connection it offers to audiences and performers alike, and we look forward to the day when all of these alternative measures are no longer necessary to support and engage our students and our community in this great art form. Until then, this streaming option will have to do."