JEHS teacher uses classic literature to talk climate change with national organization
Jordan-Elbridge High School English language arts teacher Katie Eldridge has read Shakespeare's "A Midsummer Night's Dream," numerous times and talked about it with her class.
But recently, she talked about an underlying theme i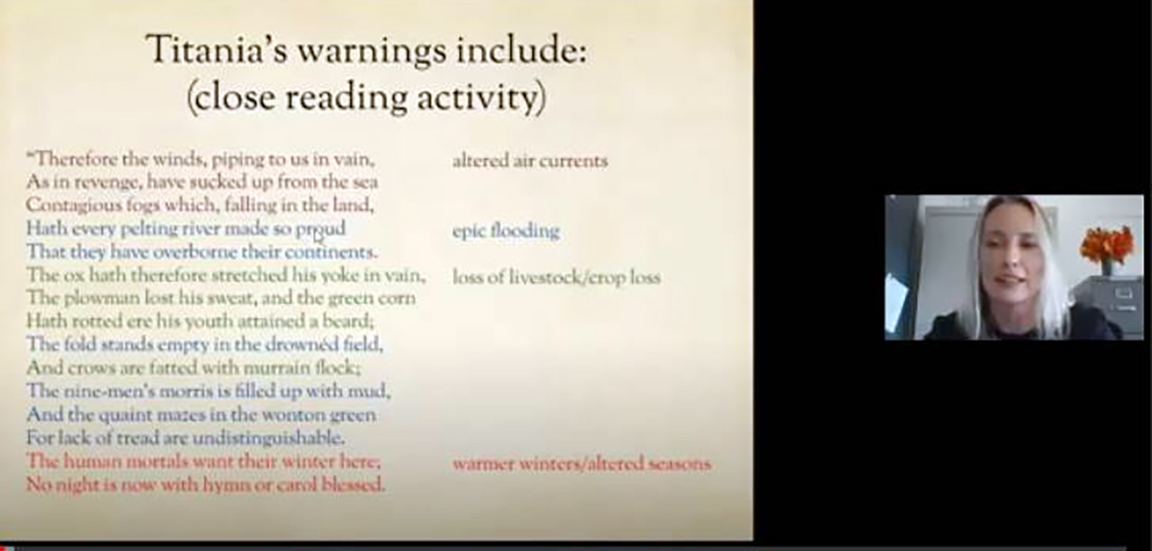 n the play that might be overlooked: climate change.
Eldridge presented "Climate Tragedy in Shakespeare's Comedy, A Midsummer Night's Dream," to a panel of professors and teachers from all over the U.S. who are part of the National Council of Teachers of English (NCTE). The panel included professors from Purdue University, the University of Miami Ohio and the University of Cincinnati.
"In my experience, I have yet to see any director really address the real tragedy that is underlying the story," she said.
"The central conflict between two main characters, Titania and Oberon, is directly resulting in catastrophic climate change, and this is almost always completely glossed over."
Eldridge said there's a whole new genre of literature out there called "CliFi," or Climate Fiction. She said teachers are looking for different ways to have the climate change conversation with students in a way that's sensitive and productive.
"People in Shakespeare's time may not have understood climate change, but they did understand human behavior and how human activity affects the planet," Eldridge said.
"That is very much a theme in A Midsummer Night's Dream that is overlooked."
The presentation came about after Eldridge attended an NCTE conference two years ago. She subsequently came up with the climate change unit based on the play, but was unable to teach it because of the pandemic shutdown in the spring. Still, members of the group wanted her to present so that other teachers could explore her idea.
"It was exciting. When we shut down last year, I had this whole unit conceptualized. It's still valuable to teachers," she said.
"It was really humbling. They welcomed me with open arms. They have worked with one another for several years, so it was great to be accepted into that collegial group."