Congratulations to the Class of 2020
A total of 90 students from the Jordan-Elbridge Class of 2020 were recognized during a commencement ceremony at the high school stadium on July 10.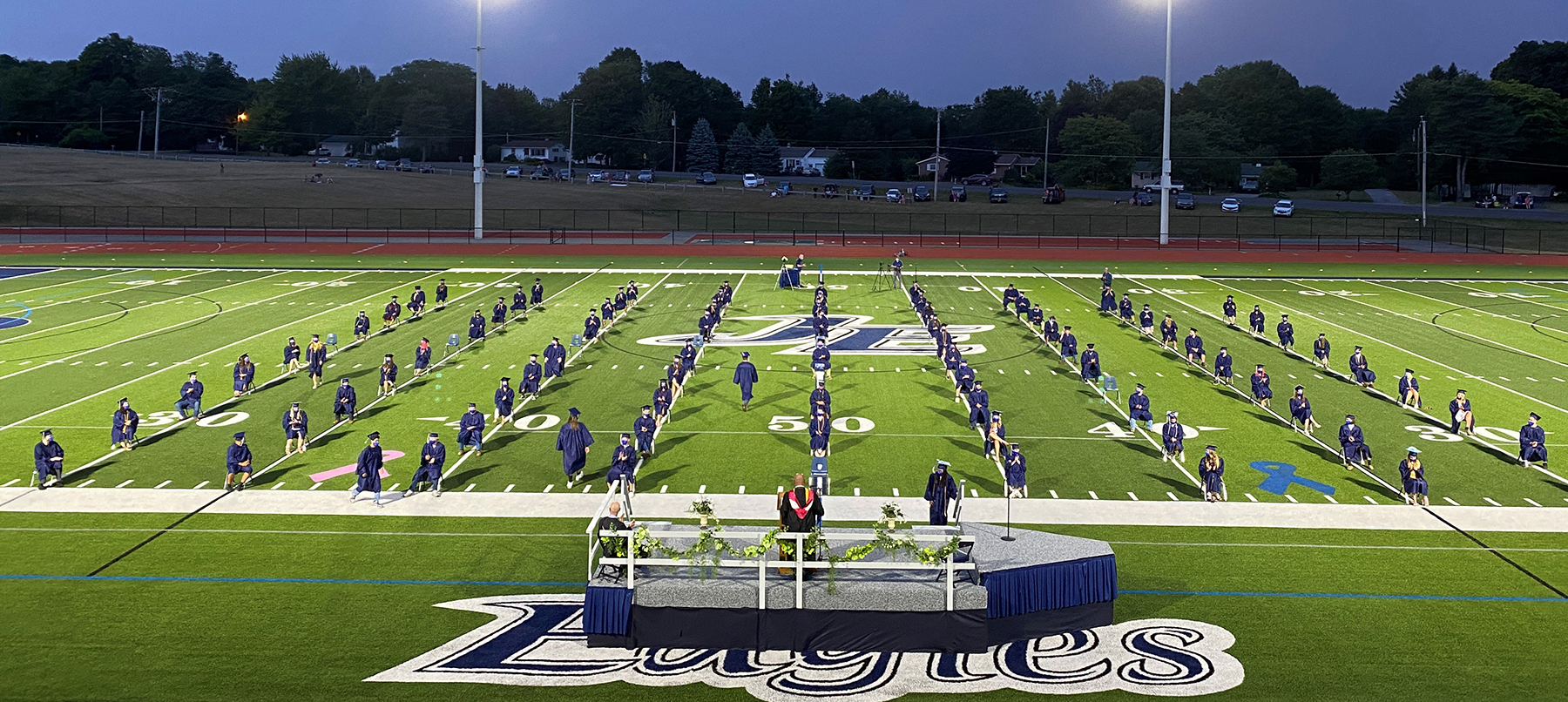 Superintendent James Froio welcomed the students in attendance to the district's 56th commencement ceremony, which was the first of four to be held during the weekend. Because of state restrictions of in-person gatherings related to the COVID-19 pandemic, just class members attended the July 10 ceremony, and the three ceremonies on the weekend were broken up by students' last names so family members could attend.
Following the National Anthem, keynote speaker and high school principal Mark Schermerhorn pointed to various examples of people overcoming adversity as he reflected on the theme of "all you can control in life is how you respond to life."
He pointed to their late classmate Nate Wagner whose way of choosing to live was emblematic of his theme.
"Remember the quote I mentioned earlier? Nate was not in control of the hand he was dealt, but you better believe he was in control of how he responded to being sick," he said. "Control what you can control, fix what you can fix, improve where you can improve. If things are out of your control, respond in a way that will benefit your wellbeing. Live life minute by minute, and have your positivity be infectious to the people around you."
The students also heard speeches from valedictorian Meghan Whalen, salutatorian Kyra White and senior class president Wendy Carter.
Whalen started by thanking her teachers, family and friends for supporting her during her years at JE, and talked about how she felt many of her fellow graduates could agree how the coronavirus took so much from them and left with unfinished business.
"We never got our last pretest distress, never got to walk the elementary school in our cap and gowns, we didn't get our senior ball or senior trip, we didn't get our last sports season, but most importantly we never really got to say goodbye," she said.
Whalen said the entire JE community has gone through together and come out the other side as better people, and said that sense of community is something that can't be found in other places.
"Jordan-Elbridge is the place where one person, if it's the right person, changes us all. The memories we've created here are not like any other," she said. "I know this isn't the ending we had hoped for, but this does not define us and we are stronger because of it."
White, the salutatorian, talked about how she overcame a failure early in her high school career to eventually set the school pole vault record.
"The moral of the story is that you may fail, but it doesn't mean you have to give up completely. Taking new opportunities allows for failures to turn into successes. You don't know what you may be good at, or terrible at, but you'll never know unless you try," she said.
White said if she has any advice for younger high school students it would be to take advantage of every opportunity the school offers.
"Try a new sport. Join clubs. Yes, your schoolwork and grades are important, but high school is more about new experiences. You never know what you may end up falling in love with, or know when you won't be able to do these things anymore," she said.
Class president Wendy Carter echoed Whalen's sentiment about the unconventional nature of their senior year, and said she was very happy everyone could be together for graduation. She said everyone's lives have been changed by the pandemic, but offered one observation:
"I do know that as of right now we are stronger as a class and as a community than we have ever been before. We have gotten through this much and now we have to see what life throws at us in these next steps," she said.