JEHS class features both remote and in-person learners
In some classes at Jordan-Elbridge High School, things might look a little bit different this year. But that doesn't mean students aren't learning core skills.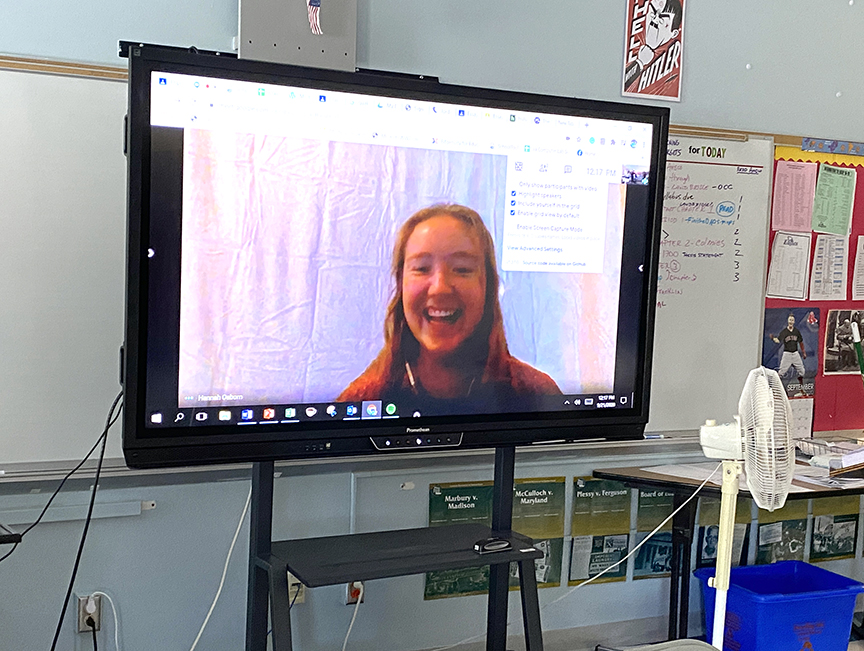 Jason Kufs Mod 7 psychology class currently has 10 seniors. Five of those are in class and five are remote. The students at home use Zoom to attend, and during class, Kufs connects his Chrombook to a Promethean board. That means all the students – both at home and in class – can see each other.
"It has been amazing so far. The class runs as a synchronized hybrid," Kufs said.
"The remote kids I have spoken to like feeling part of being in regular school, and the in-person kids like seeing friends/classmates that they would not communicate with otherwise."
Both home and in-school students are expected to attend the class at the same time every day, and Kufs says it benefits remote learners because they don't miss any instruction.
In addition to utilizing Chromebooks and a Promethean board, Kufs also plans to use the digital classroom app, Kami. He added that presentations will be done using Google slides later in the year.
"I am grateful to have the access to the technology to make this happen," Kufs said. "I'm also happy to get to see those remote kids and serve them."
Kyler Langhorn calls the class "pretty cool," and likes being able to see her friends remotely.
"I like being back at school too because it helps me keep a daily schedule," she said.
Remote learner Hannah Osborn said she loves being able to connect with classmates via Zoom, because it helps her feel closer to the learning community.
"I like being able to connect with my teachers and see everyone. Also, when I'm 'in' class, there aren't any distractions," she said.