Congratulations to the Class of 2021
A total of 97 students from the Jordan-Elbridge class of 2021 were recognized during a commencement ceremony at the high school stadium on Friday, June 25
th
. Superintendent James Froio kicked off the evening, welcoming everyone to the 57
th
commencement ceremony, celebrating the fact that the entire class could be together, in-person to recognize this memorable day.
Students heard speeches from keynote speaker and school board president Karen Guerrette, valedictorian Kasey Jackson, salutatorian Frankie Brown and senior class president Laura Alcock. The resounding message was to be proud of what the class of 2021 was able to accomplish during a year filled with changes and unknowns.
Guerrette's message to seniors focused around her household mantra, "life is good." She encouraged students to be present, live in the here and now, and be hopeful of what the future will bring.
Jackson, the valedictorian, began by acknowledging the difficulties the past year has brought and talking about memories she'll never forget from her time at Jordan-Elbridge. After collecting some advice and recollections from teachers, Jackson summed it up to her fellow-seniors.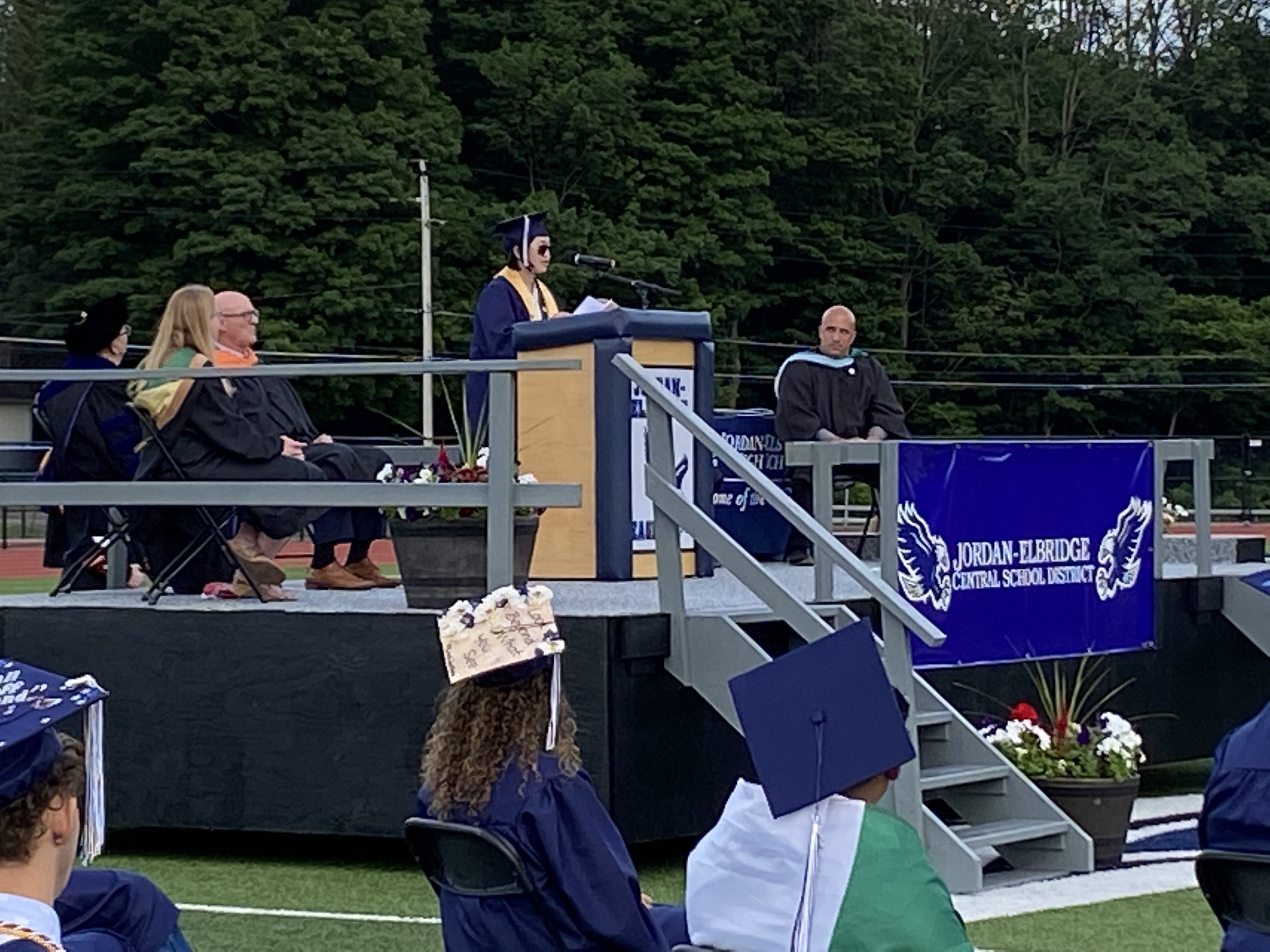 "It comes down to these three familiar pieces of recommendations: listen to others with an open mind, take accountability for your decisions even if they result in consequences, and lastly, do not, I repeat, do not live your life through someone else's lens, in other words do things for yourself and only for yourself," she said.
Jackson continued with a touching tribute to their late classmate Nate Wagner.
"I know you are watching from above and are proud of us all. If you notice, there is one seat empty among our graduating class, that's where you are, with us all."
At the end of her speech, Jackson also announced that she was donating $500 to the 'Live Like Nate' scholarship, $500 to Griffin's Guardians, and $500 to the Jonathan Cancer Fund, all in honor of Nathan Wagner. Both foundations provide financial help to Central New York families with children battling cancer. Jackson said the money was meant for a school trip to Costa Rica, which got canceled due to the pandemic.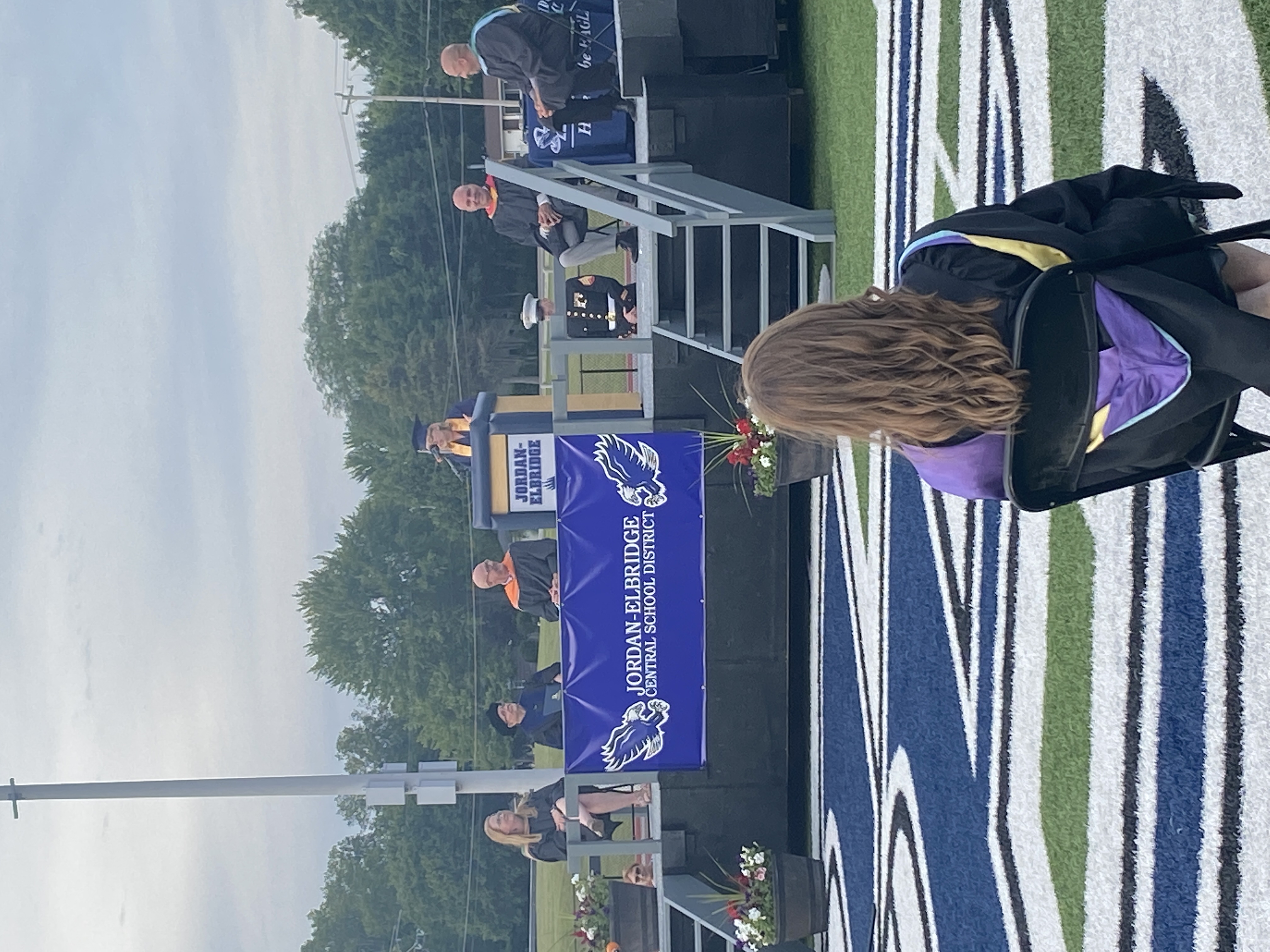 Salutatorian Frankie Brown spoke about how she spent much of the year counting down the days to graduation, excited about the next chapter of her life. In the days leading up to the ceremony though, she said she realized how much her time at Jordan-Elbridge will stay with her moving forward.
"We may be leaving the building, but we'll always be bonded together by the experiences we had here at JE. By attending school here, together, we all have left a part of us here, as the class of 2021," Brown said.
She added that the class of 2021 has been together since pre-school, and as they enter the world, it's important to remember they will always be there for each other. Her message continued with a thought to "remember your roots and conquer the world."
Class president Laura Alcock reflected that it's easy to look back on the loss of a classmate, the cancellation of many junior year events and the closing of school, and label much of the last year as 'unfair.' Her message was to acknowledge that there are always people in your corner.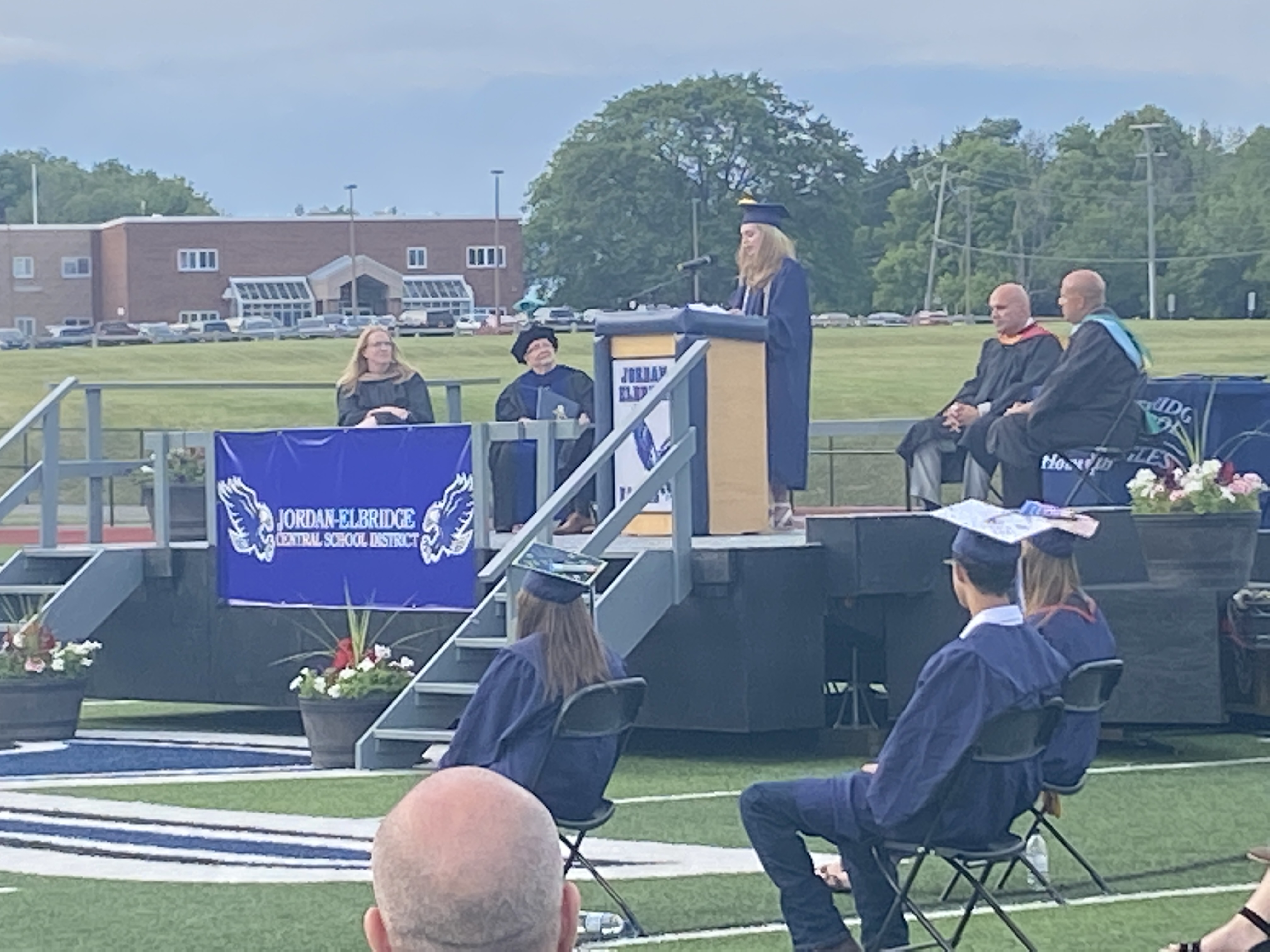 "Life might not seem fair, things will happen that we cannot explain, can't understand, or see the positive in. Remember, if we give it time, reflect, and take that closer look, there can be something positive for us to take away from the situation," said Alcock.
The Class of 2021 had the highest graduation rate, and one of the highest grade point averages in Jordan-Elbridge history. You can rewatch the ceremony
here
.
For more pictures from graduation night, click
here
.