Jordan-Elbridge Athletic Hall of Fame
JE Hall of Fame is Seeking Nominations

Do you know a former Jordan-Elbridge graduate who really distinguished himself/herself on the athletic fields at JE? Here is the opportunity to nominate your favorite Jordan-Elbridge athlete or coach for induction into the J-E Athletic Hall of Fame. The Hall of Fame has recognized over twenty five individuals from the past fifty years for their athletic achievements and contributions to the athletic program.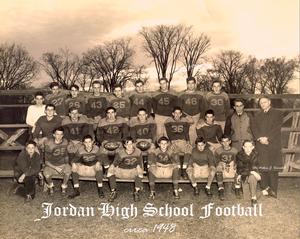 To be eligible, a candidate must:
Have attended or coached at Jordan-Elbridge High School
Have participated in at least one Varsity Sport at JE
Submit, or have submitted on their behalf, a written resume of his/her athletic achievements at JE.
Be at least 5 years out of high school (before the class of 2013)
There are 3 different categories for nomination:
Veterans: Prior to 1970
Middle Era: 1970-1995
Present Era: 1996-present

Nomination forms should be sent to: (form below)
DAN STADTMILLER
ATHLETIC HALL OF FAME CHAIRPERSON
JORDAN-ELBRIDGE HIGH SCHOOL
5721 HAMILTON ROAD
JORDAN, NY 13080
Downloads