JEHS students show off creativity in CNY Innovation Challenge
JEHS students took part in the CNY Innovation Challenge over spring break week. The competition is modeled a bit like shark tank; students present their ideas for unique products and services in front of a panel of industry professionals. The experience gives students a chance to learn about entrepreneurship.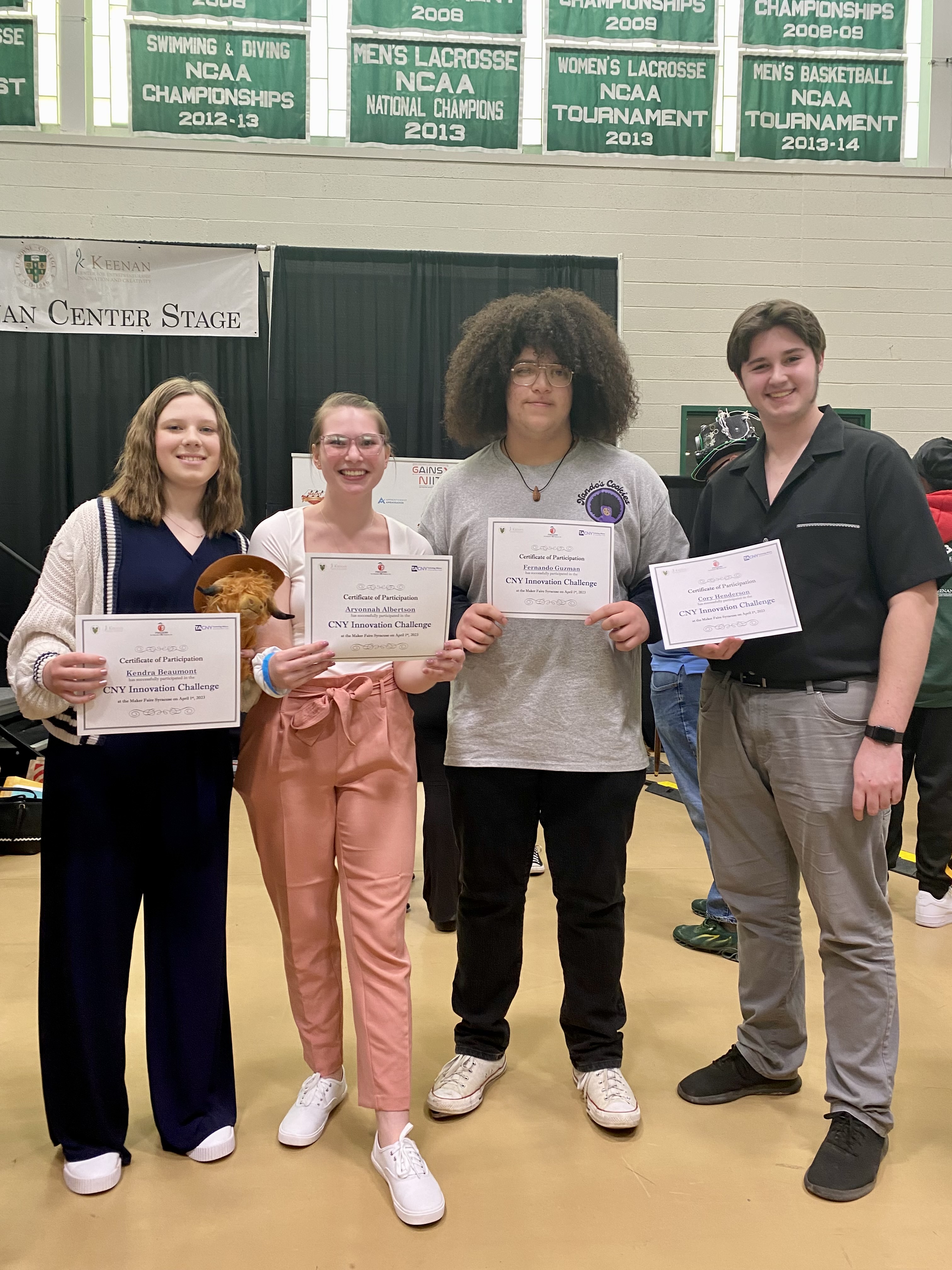 Two teams of seniors represented JE at the competition. Kendra Beaumont and Aryonnah Albertson created the Fringe Thermos: a customizable mug with a control panel that enables the exact temperature of its contents to be adjusted. Their thermos comes with a portable charger that fits in standard size cup holders. Kendra and Aryonnah presented their business idea along with an advertising campaign, which included their logo and mascot, a highland cow.
Fernando Guzman and Matt Hubbard presented Nando's Cookies. Fernando's baking has become so popular that he's acquired a home processing license. He makes peanut butter, chocolate chip, sugar, and specialty cookies such as cream cheese stuffed sugar cookies and red velvet with white chocolate chips. His best-selling cookies are peanut butter. At the CNY Innovation Challenge, Fernando and Matt presented their business expansion plans, which included offering delivery and a mobile site for ordering. They also created advertisements emphasizing their logo, "A taste of home on the go."
"Our teams did an excellent job of commanding everyone's attention and enthusiastically presenting their entrepreneurial ideas," explained English teacher Linda Falk. "Although our teams did not place, they received praise from the judges, and Fernando was encouraged to continue with his business, which he plans to do as he will pursue a degree in culinary arts next year.
The CNY Innovation Challenge took place in collaboration with the Maker Faire at Le Moyne College. Winners received a $5,000 scholarship to Le Moyne.