Next >> Viewing 1 - 20 of 288 stories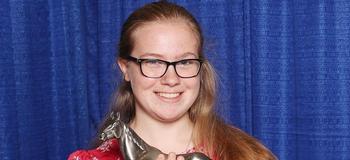 JEHS senior places, receives scholarship during national 4-H competition:

Congratulations to senior Katherine Dristle, who is celeberating a big win at a national competition! Katie recently competed in the National 4-H Horse Roundup in Louisville, Kentucky as part of the New York State Hippology team. People from 24 states traveled to Kentucky to compete in horse bowl, hippology, horse communications, and horse judging. Hippology is an equine knowledge event. It tests contestants' ability on veterinary science and horse management throughout four phases. The first is the examination phase, which includes a written exam and identification slides. In the stations phase, there are about 15 stations, and contestants are asked to identify horse equipment and anatomy. Next is the judging phase, in which contestants judge 4 horse classes, ...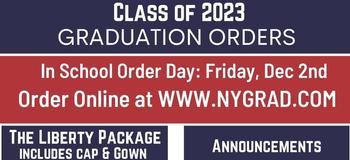 Class of 2023 in-school graduation orders happening Friday, Dec. 2:

Attention students in the Class of 2023: in-school order day for graduation is happening this Friday, December 2nd! Students will have the opportunity to order their cap and gown, graduation announcements, class jewelry, and more. Families also have the opportunity to order these items online . See the flyer below for more details.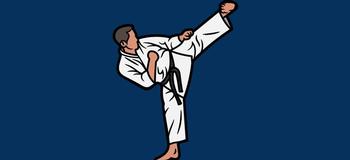 Middle and high school students can now sign up for Karate Club:

Are you interested in combat sports? Would you like to learn to defend yourself? Are you looking to get into excellent shape using martial arts weapons and techniques? If you answered yes to any of these questions, then the Jordan-Elbridge Karate Club might be for you! Karate and Kung-fu training are now being offered after school at the middle school for free. Classes are taught by a 4th degree Black Belt, and are open to middle and high school students. Practices are held Mondays and Thursdays from 3:15-4:45 p.m. To participate, you must have a physical exam on file with the nurse's office. All students must sign up through FamilyID . You can find more information and a physical form in Google Classroom. To enter, use the join code: 4eg3ioc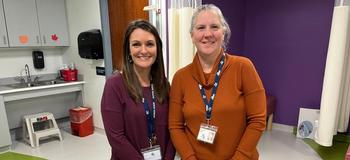 EE welcomes new nurse as Mrs. Smith gets ready to retire:

Elbridge Elementary is welcoming Lindsay Handley as the incoming school nurse, as current nurse Ginger Smith gets ready to retire at the end of December. Handley is a Jordan-Elbridge alumna. She has four children, three of whom are students at Elbridge Elementary. Her fourth will enter the 3YP program next school year. Handley said she's looking forward to working where her kids are, and in a school where she has so much respect for the teachers, staff, and administrators. "It's nice to be back home," Handley added. "This community, this school, it's always been home to me, so it's nice to be on the inside of it." When asked what she'd miss most about Elbridge Elementary, Smith said it's the funny stories she hears ...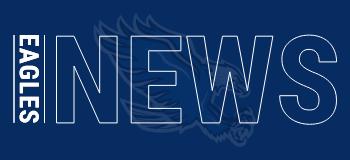 A guide to understanding your IB report card:

Jordan-Elbridge Middle School will be mailing out student's International Baccalaureate report cards the week ahead of Thanksgiving Recess. To help families better understand how students are graded, please refer to the video below, which can also be downloaded here .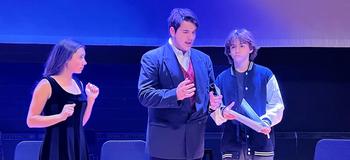 JEHS to perform "Enter Laughing" on Nov. 18 & 19:

JEHS drama department students in grades 9 through 12 will perform the comedy "Enter Laughing," by Joseph Stein on November 18 and 19. The story takes place in the late 1930s and focuses on a fun-loving Jewish high school student from New York named David Kolowitz. David works as a delivery boy in a sewing machine factory but really aspires to be an actor on stage. His practical-minded boss, Mr. Foreman, wants to take David under his wing and train him to eventually take over the business. Meanwhile, David's protective parents want him to go to college to become a pharmacist, which makes his girlfriend, Wanda, very happy. But David has other ideas; even though he has no experience, he dreams of pursuing a life in the theatre. At his friend Marvin's suggestion, ...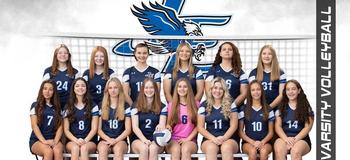 Five fall sports teams receive scholar-athlete status:

JEHS is excited to announce five fall sports teams have been named NYSPHSAA Scholar-Athlete Teams! To achieve this distinction, 75% of the team's roster must have a GPA of 90 or higher. Great job to all players, coaches, and staff for their hardwork during the school year. The teams being recognized are: Varsity Girls Soccer Varsity Golf Varsity Boys Soccer Varsity Girls Volleyball Varsity Boys Cross Country Keep up the great work and congratulations!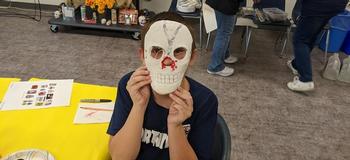 October "Be IB Day" celebrates Hispanic Heritage Month:

JEMS students celebrated the second "Be IB Day" of the school year at the end of October, this time focusing on Hispanic Heritage Month. "An IB school engages students in learning about other cultures, peoples and places," explained IB Coordinator Alexis Farnsworth. During this October "Be IB Day," language acquisition teachers came up with hands-on activities to educate students about Hispanic music, food, and traditions. Students in 6 th grade made calavera, or decorative Day of the Dead masks, 7 th graders made marigolds out of tissue paper, which are the flowers of Day of the Dead, and 8 th graders decorated calavera cookies. Besides these fun activities, students engaged in lessons about the history of Mariachi music and the Day of ...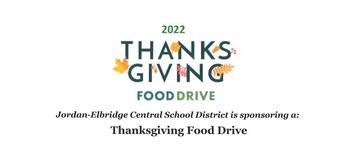 JECSD sponsors Thanksgiving Food Drive:

The Jordan-Elbridge Central School District is sponsoring a Thanksgiving Food Drive from November 1-17. All donations will support the Jordan-Elbridge Food Pantry, which supports local families in need. Food items can be sent to school with your student(s), and cash or checks are also accepted. For more details, see the flyer below, or download a copy of the flyer here .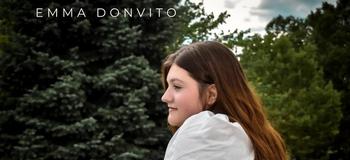 JEHS student records and releases her first album:

Jordan-Elbridge High School junior Emma Donvito is excited to announce the release of her first album, Butterfly Effect. The album features six cover songs by artists including Adele, FINNEAS, and Lizzy McAlpine. Emma recorded the album over the summer at JEHS, and has released three singles prior to the full album release. High school band director Zachary Moser aided in the project as the producer, recording, and mixing engineer. Emma's other recent credits include attending the AMDA Summer Conservatory for Musical Theatre in Manhattan, and on stage at JEHS as Lilly in "Anastasia" and Angie in "The Wedding Singer." She is also one of the drum majors for this year's Marching Eagles. You can find the album on Spotify , or on any ...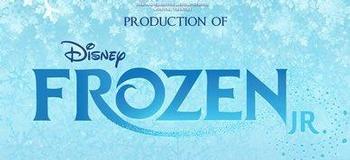 Warm your heart with "Frozen, Jr." at JEMS:

Disney's Frozen Jr. is playing at the Ramsdell Auditorium on Friday, November 4th at 7 p.m. and Saturday, November 5th at 2 p.m.. The spectacular 60-minute musical, designed for middle school-aged performers, is based on the 2013 Disney film and the 2018 Broadway adaptation. The JEMS MUSICAL THEATRE cast includes about 45 cast and crew members led by Ryan Sparkes, Courtnee Waldref, Kathryn Alonso-Bergevin, and Drew Deapo. Do you want to build a snowman? You'll love this fanciful and heartwarming stage adaptation of the top-grossing animated film of all time! Join Anna, Elsa, and all of your favorite characters as they embark on an epic, ice-filled journey of self-discovery, camaraderie, and the real meaning of true love. Adapted for young performers, ...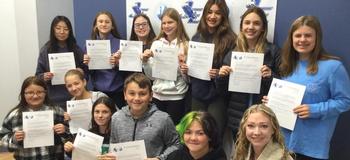 JEMS students inducted into National Junior Honor Society:

Several Jordan-Elbridge Middle School students have been accepted into the JEMS National Junior Honor Society. They completed a lengthy application process to be considered for the organization. Congratulations to: Sally Lin, Gabrielle Rodriguez, Reese Murphy, Sarah Love, Keira Bennett, Stella Opanhoske, Madilynn Moch, Makaylee MacDonald, Lauren Richardson, Abigayle Bates, Noah Jackson, and Harper Taylor. These students will spend the year supporting their community through service. Great work, Eagles! We are so proud of your accomplishments.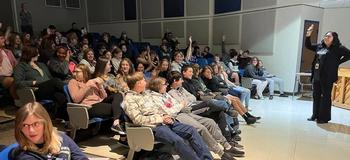 JE students learn about the importance of cyber safety:

JE students in grades 5-8 learned about the importance of online safety and privacy during recent assemblies at the middle school. Senior Outreach Manager for the National Center for Missing and Exploited Children (NCMEC), Debra Ortiz-Pardi, spent time teaching students about topics such as being careful with what they share online, recognizing red flags of online exploitation, cyberbullying, identifying trusted adults, and reporting options. "They're online all the time; their digital life is kind of their life," explained Ortiz-Pardi. "We know there is a lot they can access, and that other people can access them, so it's important for them to know what resources are out there and to be better aware so they can make safer choices, and they can ...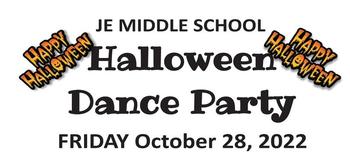 MS Halloween Dance Party planned for Friday, Oct. 28:

Jordan-Elbridge Middle School is hosting a Halloween Dance Party on Friday, October 28th! Tickets to attend are $5.00, and you get a $1.00 discount if you bring a food pantry donation. The party will be held at the middle school, and will include a DJ, a costume contest, a concession stand with treats, and much more! Check out the flyer below for details. You can also download a copy here .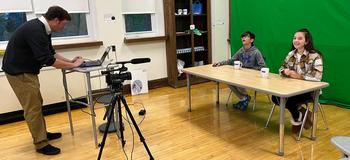 Catch the JEDIS morning announcements on Eagle News Network:

You can keep up with the latest news from the Jordan-Elbridge Dynamic Intermediate School thanks to livestreamed morning announcements on Eagle News Network! Students Austin Primiano and Annabella Guarnieri transform from students to news anchors each morning. The two show up to Mr. Sinclair's classroom shortly after arriving at school, and go over their script before going on air. A green screen helps turn their classroom backdrop into an anchor desk within a newsroom, and a smartboard is repurposed as their teleprompter. JEDIS classrooms tune into the morning announcements via YouTube. You can check out Monday, October 17th's episoe below, or watch previous epsiodes by following this link . That link is also where you find the livestream each morning. ...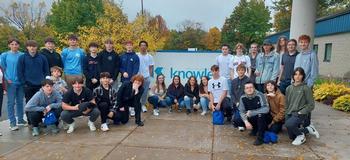 JEHS students tour local business for National Manufacturing Month:

JEHS students recently celebrated National Manufacturing Month with a tour of Knowles Precision Devices in Cazenovia. The goal was to show students how local products are made, with the hopes of inspiring this next generation to pursue careers in manufacturing. Knowles Precision Devices creates a wide range of products, used from 8,000 feet underground, to over 250 miles above us, orbiting the Earth. The company manufactures equipment such as radar, pacemakers, MRI equipment, satellites, airplanes, and electric vehicles. Below, you'll find reactions from sophomore students who attended the field trip. What is the most interesting thing you learned on the tour? "It was cool to see the machines in action, and it was interesting to see how the ceramics ...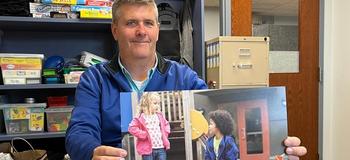 Expanded curriculum at Elbridge Elementary focuses on building students' pro-social skills:

Elbridge Elementary students across all grade levels are learning how to maintain healthy relationships, and how to appropriately share their emotions with both adults and their peers thanks to expanded "Second Step Curriculum." This new curriculum used to be taught within just two grade levels. This school year, it has expanded into all EE classrooms, from 4YP to 3 rd grade. Second Step is a pro-social skill building curriculum. Here's how it works: Guidance Counselors Nikki Bloodgood and Rob McIntyre visit classrooms at the start of a week, to introduce a new behavior- specific topic, such as sharing. They'll show a picture of students, like what you see on the right, and ask students to interpret what's happening. From there, the counselors will ...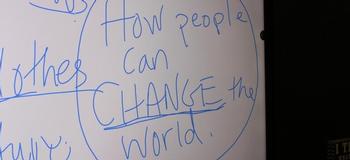 JEMS students participate in first "Be IB Day":

Jordan-Elbridge Middle School students are celebrating the completion of the first ever "Be IB Day." The goal is to help students gain a deeper understanding of the International Baccalaureate program through once-per-month immersive activity days. "We want them to learn about the process of learning," explained IB Coordinator Alexis Farnsworth. During the monthly "Be IB Days," students stop their regular schedules to participate in hands-on activities that teach them further about the International Baccalaureate program itself. September's "Be IB Day," focused on learning about the meaning of International Baccalaureate. Students created posters showcasing what an IB education means to them, played a game to learn more about IB skills, ...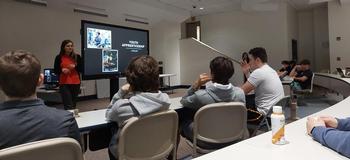 Students learn about new Youth Apprenticeship Program offered this year:

High school students got the opportunity to hear more about a Youth Apprenticeship Program offered this school year, as part of a partnership with the Manufacturers Association of Central New York. Workforce Development Specialist Amy Stewart answered students' questions and explained more about the program being offered during a presentation at the high school on Wednesday. MACNY is a not-for-profit representing over 300 businesses and organizations across central and upstate New York. This new program offers job shadows and paid internships at local manufacturing companies, along with the opportunity to enroll in college-level classes. This on-the-job training and coursework may jumpstart students into a NYS Registered Apprenticeship when the student turns 18. The ...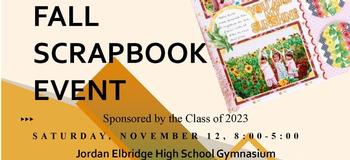 Fall scrapbook fundraising event set for November:

You can support the senior class while preserving your favorite memories. The Class of 2023 is hosting a scrapbook/crop day on Saturday, November 12 from 8 a.m.–5 p.m. at the high school. There will be raffles, lunch and snacks are provided, and local vendors will be on-site to offer help and guidance. Participants may register by following this link . The senior class hopes to see you there!
Next >> Viewing 1 - 20 of 288 stories