Next >> Viewing 1 - 20 of 205 stories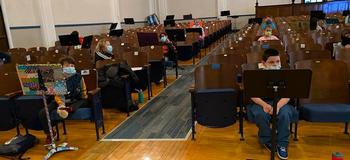 Students get excited for in-person holiday concerts:

For the first time in years, students are getting excited to perform in holiday concerts in front of an audience! "We're excited about seeing friends and family at the concert," two 4 th graders agreed. JEDIS and JEMS students will be hosting a combined concert on Tuesday, Dec. 14 th at 7 p.m. in the high school auditorium. Students will be performing classic songs such as "Winter Wonderland," and were asked to wear Christmas colors or all black. "Parents and students alike are very excited to get back in the spotlight," added music teacher Andrea Love. Love will be leading kindergarteners on stage Thursday, Dec. 9 th at 6:30 p.m. in the high school auditorium. They'll be singing "Better Bundle Up," "Rudolph ...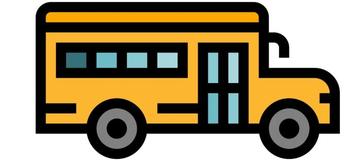 Reminder to fill out form if students need transportation changes:

As we approach the holiday break, it is important to note that parents and guardians who know their student will need to get the bus from a new location in the new year must fill out a Transportation Change Form. Please keep in mind that the district allows one morning pick-up address and one afternoon drop-off address. You are always welcome to personally drop off and pick your child up from school. By filling out the form, the district will have the information needed to make changes, assign bus routes and communicate them to families to cut down on any confusion. You can find the form by clicking here. If you have any questions, please call the Jordan-Elbridge Transportation department at (315) 689-8500 x 5602.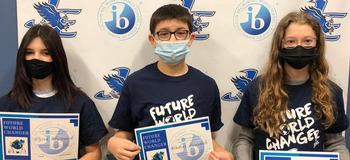 Future World Changers announced for month of November:

Three Jordan-Elbridge Middle School students are being recognized as 'Future World Changers.' Each month, teachers nominate students for reasons such as excelling in class or making significant progress and growth. The students nominated exhibit qualities of a lifelong learner, such as having determination, being compassionate, and demonstrating curiosity. November's 'Future World Changers' are Windsor Trousdale, Jr., Catherine McGinn and Alyssa Woytowich. Students receive a t-shirt and a certificate for their hard work. Their names are also displayed on the marquee in front of Elbridge Elementary. See photos of the students below. Congratulations to all of our Future World Changers!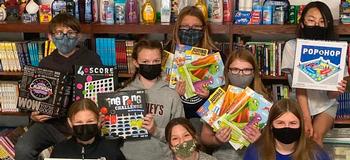 Celebrating a successful donation drive:

Congratulations to Year II students at JEMS for sponsoring a successful Personal Care Holiday Drive to support local refugee families in Syracuse. The students started the drive after reading the novel A Long Walk to Water by Linda Sue Park. JEMS partnered with Syracuse Refugee & Immigrant Self-Empowerment (RISE) to collect personal care items to be delivered to community members in time for the Thanksgiving Holiday. That included everything from toiletries to games and books. You can see how much was collected in the picture below! Once the collection was complete, representatives from RISE came to JEMS to talk about the work they do as an organization and the importance of accepting others. Great work, all!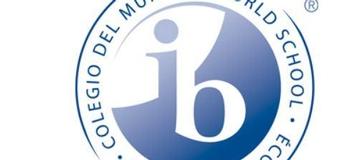 Understanding your IB report card:

As we reach the end of the first marking period, you may have questions about the new format of the International Baccalaureate report card. IB Coordinator Alexis Farnsworth has created a video to help families better understand the IB report card format. Please watch the video below, or click here to learn more .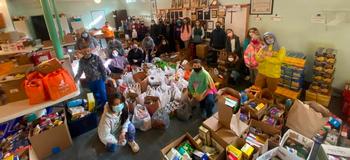 JE students help unload donated food at local food pantry:

JEMS students celebrated the spirit of giving ahead of the Thanksgiving holiday. Third grade Eagle Council students and sixth graders teamed up to assist in the unloading of all the food donated by members of the district through this year's food drive. Teachers who joined said students displayed teamwork, kindness and a true sense of community working together to carry and organize all of the donations. Great job, everyone! See photos from the day below.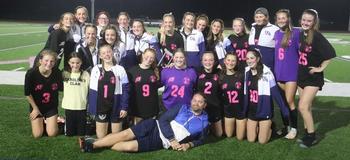 Multiple fall sports teams honored as scholar-athlete teams:

The fall sports season has come to an end, and five of our fall sports teams will be recognized as NYSPHSAA Scholar-Athlete teams! To achieve this distinction, 75% of the team's roster must have a GPA of 90.00 or higher! "Kudos to our players, coaches, and staff for their work during this uncertain school year," said Director of Athletics Dan Stadtmiller. The teams are: Varsity Girls Soccer Varsity Boys Soccer Varsity Girls Volleyball Varsity Boys Cross Country Varsity Girls Tennis Keep up the great work and congratulations!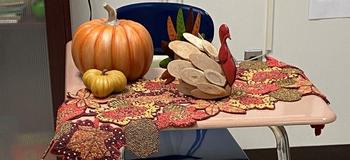 ELL students tell the history of Thanksgiving for Poland pen pals:

English Language Learners who are communicating back and forth with students in Poland are trying a new format to send their messages. Students recorded a video explaining the tradition of Thanksgiving in the United States. Once the video is sent to their Poland pen pals, students here at JE expect a response video about Christmas traditions in Poland. "Thank you to all students who are participating, we are very happy to be able to share different perspectives," said JEMS Principal David Shafer. JEMS is an International Baccalaureate school, and lessons such as these fall in line with what students are taught daily. IB Coordinator Alexis Farnsworth explained one IB learner attribute is to be a communicator. ELL students are truly reaching across the divide to communicate ...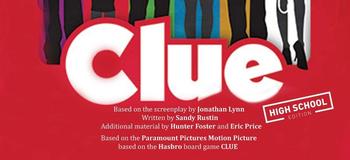 Fall play 'Clue' to debut Nov. 19:

Get ready for a night of fun, as 'Clue' opens this weekend at JEHS! The play is based on the iconic 1985 Paramount movie, which was inspired by the classic Hasbro board game. You can watch 'Clue' on Friday, Nov. 19 and Saturday, Nov. 20 at 7 p.m. in the JE High School Auditorium. Clue is a hilarious farce-meets-murder mystery. The tale begins at a remote mansion, where six mysterious guests assemble for an unusual dinner party where murder and blackmail are on the menu. When their host turns up dead, they all become suspects. Led by Wadsworth, the butler, (Cooper Childres), Miss Scarlett (Sophie Meixner), Professor Plum (Aydan Piper), Mrs. White (Haylee Salmonsen), Mr. Green (Matt Hubbard), Mrs. Peacock (Bayleigh Clark) and Colonel Mustard (Allen Cassick) race to ...
JEHS hosts signing day event:

Five JEHS seniors were recognized in a ceremony Wednesday for their athletic accomplishments throughout high school. Vassianna Klock, Gabrielle Gunnip, Wade Brunelle, Alexis DelFavero and Nick Long will all be playing a sport at the collegiate level next year, a feat only 7% of high school athletes accomplish. "It has truly been an honor to watch them grow, especially through these past few trying years," said Director of Athletics Dan Stadtmiller when introducing the athletes. Vassianna, daughter of Tracey and John Klock, will attend the University at Buffalo, where she will be a Division 1 athlete in cross country and track. She chose Buffalo because of the coaching staff, and plans to major in Biology. Gabrielle, daughter of Jim and Liz Gunnip, will attend Lock ...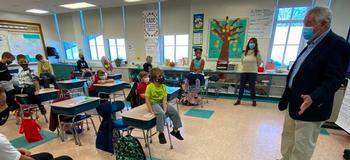 Elbridge Elementary students learn about Veterans Day:

Elbridge Elementary schoolers learned about the importance of Veterans Day with the help of a special visitor on Wednesday. Veteran Mr. Martin joined Mrs. Bastian for the morning announcements to talk about his experiences in the Vietnam War. "The earlier kids are aware of what it takes to have a free country, it can only help them," said Mr. Martin. The discussion focused on the sacrifices veterans make while serving. They aren't home with their families, it can be lonely, and you have a dangerous job. Mr. Martin also talked about how veterans protect our freedoms and the way we live in America. "If we create this appreciation at an early age, it will stick," explained Mr. Martin when asked why it's important to talk to children about the ...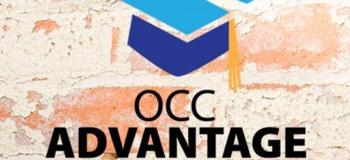 Freshmen encouraged to sign up for OCC Advantage program at JEHS:

Ninth graders are being encouraged to sign up for the Onondaga Community College Advantage Program at Jordan-Elbridge High School. It allows students who meet certain criteria to attend the college on a full tuition scholarship after they graduate. Students participating in the program who meet attendance and grade point average requirements and complete community service all four years of high school will be eligible to attend OCC on a full tuition scholarship. Students would have two years once they get to OCC to earn an associate degree or certificate. While attending OCC, they also have to maintain a certain GPA or higher and meet community service requirements to stay in the program. During the 2021-22 academic year, full-time tuition at OCC is $2,545 per semester. The ...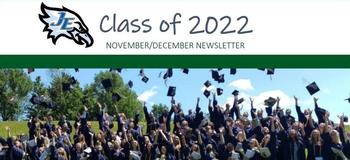 Important information for families of the Class of 2022:

There are some important dates for the Class of 2022 to look ahead to. You can find the senior class' November newsletter below, along with a flyer with more information about an upcoming fundraiser. The newsletter can also be downloaded here , and the flyer can be downloaded here .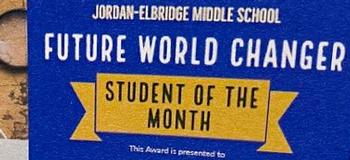 Future World Changers announced for month of October:

Four Jordan-Elbridge Middle School students are being recognized as 'Future World Changers.' Each month, teachers nominate students for reasons such as excelling in class or making significant progress and growth. The students nominated exhibit qualities of a lifelong learner, such as having determination, being compassionate, and demonstrating curiosity. October's 'Future World Changers' are Thomas Mackey, Sydney Curtis, Sophia Guzman and Brody Tubbert. Students receive a t-shirt and a certificate for their hard work. Their names are also displayed on the marquee in front of Elbridge Elementary. See photos of the students below. Congratulations to all of our Future World Changers!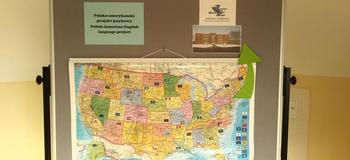 New project connects students at JE with classrooms in Poland:

English Language Learners at Jordan-Elbridge are sharing their experiences with students across the globe. Teacher Danuta Goldmann collaborated with a teacher from Rewal, Poland to kick off a project called "Words on Wings Across the Ocean." Students from both classrooms spend a portion of their lesson reading letters from their faraway friends and writing a response. "It's good practice with handwriting, spelling, writing paragraphs, and kind of showing our interests to people we have never met," explained Goldmann. "I think this idea is really foreign to people." All students who are participating are learning English as a second language. Along with sharpening their writing skills, this project inspires students to understand and appreciate ...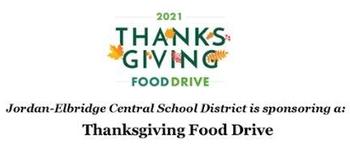 Helping those in need ahead of Thanksgiving:

The season of giving has officially arrived and JE is supporting two drives ahead of Thanksgiving. Jordan-Elbridge Middle School is hosting a Personal Care Drive to support local refugee families, and the entire district will be sponsoring a Thanksgiving food drive to support the JE Food Pantry. Students are being asked to bring donations to school for the Thanksgiving Food Drive, but donations may also be dropped off at St. Patrick's Parish Center lobby (behind the church) at 28 N. Main St. Jordan, NY 13080. Both Middle School Honor Society & Elbridge Elementary Eagle Council students will be helping unload JECSD items collected on Friday, Nov. 19. Extra details for both events can be found in the flyers below.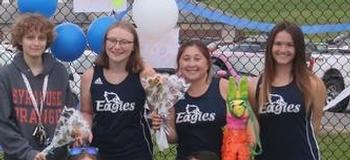 Celebrating senior Anisa Bort's tennis career:

Anisa Bort has been dreaming of playing tennis in college since she was a child. Now, as a senior at JEHS, she's made those dreams come true. "Something my family and myself has pushed for is the ability to get a tennis scholarship and to help lessen my student debt while allowing me to do something I loved," explained Anisa. Anisa started playing tennis when she was 6 years old and joined the JE team once she started high school. For the past two years, Anisa has advanced to state qualifiers. To get there, she had to make it to the semi-final round of sectionals, and to get to sectionals she had to win at least half of the matches she played throughout the season. "Getting to state qualifiers for a second time for me was a great opportunity to play ...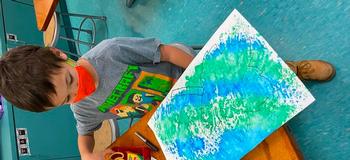 Celebrating the return of special-area classes at EE:

Students at Elbridge Elementary are settling into routines that once again include special-area classes, such as art. For some kindergarten and first grade students, this is the first time they've had a structured art class while in school. Last year, art classes weren't available due to the pandemic. "If I'm walking in the hallways, they see me and wave and get so excited, the little kids especially because it's brand new, they've never come to anything like this," explained art teacher Erin Sadowski. For students who are returning to art class after more than a year, there are some adjustments to get used to. Each student must use their own supply box, and the boxes are grade-level specific. Students no longer share buckets of supplies. ...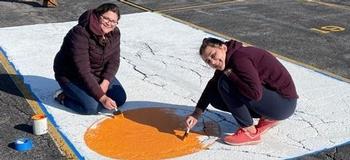 Seniors personalize parking spaces at JEHS:

Some Jordan-Elbridge seniors now have their own personalized parking space for the year. Students had the option of designing and painting a parking spot as part of a fundraiser for their class. Both students and staff could pay to have their parking space painted. The goal was to have fun and be creative! See what some students came up with below.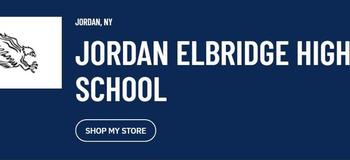 Jostens representative to visit JEHS to talk graduation, class jewelry:

It's time for JEHS seniors to look ahead to graduation! A representative from Jostens will be at the district on Thursday, November 4 th to talk about graduation packages and class jewelry. Larry DeWitt will be at JEHS to take seniors' orders for caps and gowns, and both junior and senior students' orders for jewelry. Seniors, if you haven't received your graduation packet with the catalog and order forms, check with your senior advisor or go to this website to see our full offering. You can also find a short video here that includes an overview about graduation announcements and answers some common questions. If you would like to purchase class jewelry, there are two ways to order. You can order online , or order in school with the Jostens representative ...
Next >> Viewing 1 - 20 of 205 stories