Next >> Viewing 1 - 20 of 354 stories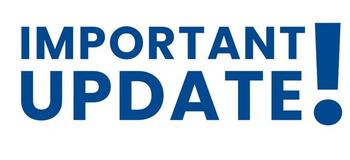 Revised 2023-2024 School District Calendar:

The following revisions were made to the school district calendar at last night's Board of Education Meeting: - Christmas recess has been extended to include Friday, December 22, 2023. - April 8, 2024 is a Superintendent's Staff Day instead of March 15, 2024, to provide staff with collaborative academic opportunities and wellness activities.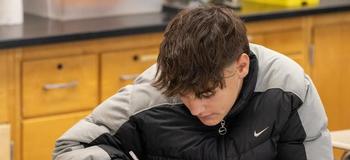 Two Exceptional Foreign Exchange Students Thriving and Excelling at JEHS:

Jordan-Elbridge High School proudly celebrates the remarkable achievements of two exceptional foreign exchange students, whose dedication, talent, and passion have greatly enriched the school community. Mr. Gonzalo Garcia-Vinas from Spain, and Mr. Abdulaziz 'Aziz' Alneamah from Kuwait, have demonstrated exceptional academic prowess, cultural exchange, and community involvement since joining JEHS for the 2023-2024 academic year. Their commitment to academic excellence and involvement in various extracurricular activities has not only enhanced their personal growth but also contributed significantly to the school's multicultural environment. Aziz, who said he really started to learn and understand English while watching Netflix's hit show "The Crown" ...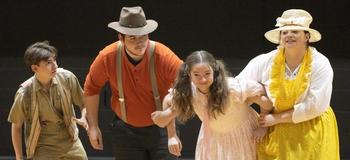 JE DRAMA presents "Tuck Everlasting" - A Timeless Tale of Immortality and Choices:

The Jordan-Elbridge High School Drama Club is excited for its upcoming production of "Tuck Everlasting", a play adapted by Mark Frattaroli from the cherished novel by Natalie Babbitt. This enchanting performance promises to transport audiences into a world where time stands still, and the age-old question of immortality versus a natural life takes center stage. Set to grace the stage on Friday, November 17, and Saturday, November 18, at 7:00 PM in the Jordan-Elbridge High School Auditorium, the production promises an enchanting experience for theater enthusiasts of all ages. Directed by Denise Deapo, with Drew Deapo as the technical director and Sophia White as the stage manager, the talented cast and crew have been diligently rehearsing to bring this magical story to life. ...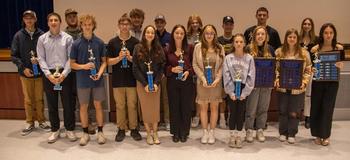 JEHS Celebrates Outstanding Athletes at Fall Sports Awards Ceremony:

Jordan-Elbridge High School recently honored its exceptional student-athletes at the annual Fall Sports Awards Ceremony held on November 9 inside the auditorium. The event showcased the dedication, talent, and sportsmanship of the student-athletes who participated in various fall sports during the 2023 season. The evening began with a warm welcome from Dan Stadtmiller, Director of Health, Physical Education, and Athletics, who expressed gratitude for the hard work and commitment demonstrated by the student-athletes throughout the season. The ceremony highlighted not only the individual achievements of athletes but also the collective success of the Jordan-Elbridge sports community. The event featured recognition for outstanding performances in sports such as football, soccer, cross ...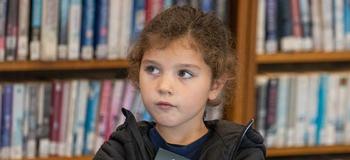 EE Revives Cherished Tradition: First Graders Walk Down to Elbridge Free Library for Library Cards:

Elbridge Elementary is delighted to announce the revival of a beloved tradition that brings joy to the hearts of both students and the local community. Throughout the month of October, first graders made their way to the Elbridge Free Library to receive their library cards. This tradition, which began in 2008, was temporarily discontinued in 2017 due to the tragic loss of a beloved teacher. Now, after five years of absence, it has been being joyously reinstated. In 2008, first grade teacher Mike Gallagher started the tradition by walking his class the 0.3 miles down E. Main St. to Elbridge Free Library, so students could not only receive their library cards, but also tour the building and gain a comfortability within the rows of books. Mr. Gallagher did this every year up until his untimely ...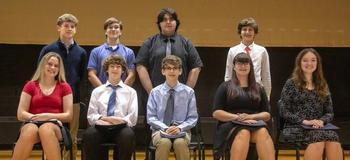 JEHS Students Shine as They Are Inducted into the NYSSHS:

Jordan-Elbridge Central School District is proud to announce the induction of several outstanding students into the prestigious New York State Science Honor Society (NYSSHS). These exceptional individuals have demonstrated a commitment to excellence in the field of science and have now earned well-deserved recognition for their dedication and hard work. The ceremony started with welcome addresses from JE NYSSHS President Haley Root, JE NYSSHS Advisor Daniel Bondgren, and Superintendent of Schools James Froio. Shaun Hohm, Class of 2009, served as guest speaker for the ceremony, and noted how important it was being a member of the NYSSHS back during his time as a student at JE. Hohm, now working as an Instructional Support Specialist at the State University of New York College of Environmental ...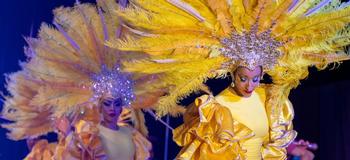 Hispanic Flamenco Ballet Delights Audiences at JEHS:

The Jordan-Elbridge High School auditorium was recently swept away by the passionate and mesmerizing performance of the Hispanic Flamenco Ballet. The day was a celebration of cultural diversity and artistic excellence, leaving the audience enthralled and inspired. With over 17 years of experience, the Hispanic Flamenco Ballet, founded by the Arts and Dance Co., have been passionately dedicated to delivering top-tier cultural education to students across 39 states. They design their performances to be much more than just entertainment; the production is a look into a vibrant window of the rich and diverse tapestry of Hispanic culture, presented through the captivating lens of performing arts. Jordan-Elbridge Middle School and Jordan-Elbridge Dynamic Intermediate School students jumped ...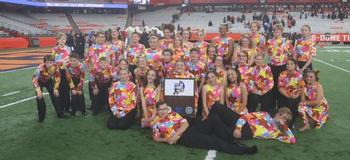 JE Marching Eagles Cap Incredible Season With 2nd Place Finish at State Championships:

The Jordan-Elbridge Marching Eagles have closed their remarkable season with an exhilarating second-place finish at the State Championships at the JMA Wireless Dome on the Syracuse University campus. Competing for the 47 th time at the State Championships, the JE Marching Eagles placed second out of nine schools with a score of 81.95, their highest score since 2012. The 2023 marching season was an exceptional one for the JE Marching Eagles. The band accumulated five 1st place finishes, including a win in Connecticut at the USBands regional event in Danbury. These incredible achievements are a testament to the dedication, talent, and hard work of the students, staff, and supporters who have relentlessly supported the band throughout their journey. The band showcased their extraordinary ...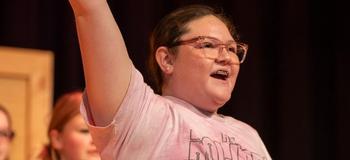 "Matilda, JR." Takes the Stage: JEMS' Latest Musical Production Promises Magic, Mischief, and a Whole Lot of Heart: The stage is set for a night of enchantment and creativity as the Jordan-Elbridge Middle School Musical Theatre presents Roald Dahl's "Matilda JR.," a captivating production that promises to transport audiences into the whimsical world of Matilda, a girl with extraordinary powers. This heartwarming and witty ode to the anarchy of childhood and the power of imagination will take place on Friday, November 3, at 7:00 PM and a matinee performance on Saturday, November 4, at 2:00 PM. Join us at the Ramsdell Auditorium, located on the JE Middle School campus, for this unforgettable theatrical experience. Reserved tickets are available for purchase now online at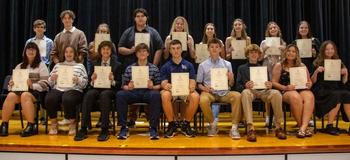 JEHS Proudly Congratulates Its Newest Members of the National Honor Society:

Jordan-Elbridge High School is thrilled to announce and extend heartfelt congratulations to the exceptional students who have been selected as the newest members of the National Honor Society Veritas Chapter. These students have demonstrated outstanding scholarship, leadership, service, and character, and their induction into this prestigious society is a testament to their dedication and commitment to academic excellence. The National Honor Society is a nationwide organization that recognizes and celebrates students who exhibit exceptional qualities and contribute significantly to their school and community. The newest inductees from JEHS have shown exemplary commitment in all areas of NHS's core values. The following students have been selected for their outstanding achievements ...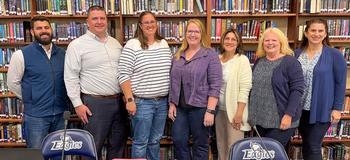 JE Celebrates School Board Recognition Week:

Jordan-Elbridge Central School District is proud to join school districts across the nation in celebrating School Board Recognition Week, a time to express our deep gratitude and appreciation for the dedicated individuals who serve on our Board of Education. School Board Recognition Week provides an opportunity to recognize the extraordinary work of these volunteers who play a vital role in the education and success of our students. Our Board of Education members work tirelessly to ensure that every child in our district has access to high-quality education and a bright future. Thank you to Karen Guerrette, Annette Gustafson, William Yard, Tabitha DelCostello, Molly Godfrey, Kurt Handley, and Jodi May. The JECSD community invites ...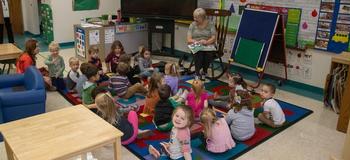 Local Librarians Inspire Young Minds at EE:

Elbridge Elementary is excited to announce upcoming special visits from our local Elbridge Librarians, Bette Tucker and Deb Walrath, as well as Jordan Librarian, Linda Byrnes, to bring the joy of reading to our 3YP (3-Year-Old Preschool) students. During ther visits, the Librarians will engage the imaginations of our 3YP students with captivating tales and picture books carefully selected to fascinate young minds. Through their warm and interactive storytelling, they will transport the children to far-off lands, introduce them to unforgettable characters, and open the door to a world of endless possibilities through the magic of literature. They will visit the 3YP classes once per month on alternating months, while reading to two classes at a time. They will also promote ...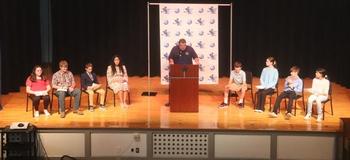 JEMS Elects New Student Council Representatives: The Jordan-Elbridge Middle School held its highly anticipated student council elections last week, showcasing a vibrant display of democracy in action. The election process began with a primary election, where aspiring student leaders gathered signatures from friends and teachers on petitions to secure their spot on the ballot. After the primary elections, the pool of candidates was narrowed down to two contenders for each of the four major offices: President, Vice President, Treasurer, and Secretary. The campaign season kicked off with candidates eagerly decorating the school with posters, distributing "Vote for Me" bracelets and bookmarks, and preparing persuasive speeches to deliver at a schoolwide assembly attended by students ...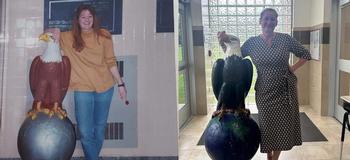 Dutch Former Foreign Exchange Student Returns to JEHS After 33 Years:

Jordan-Elbridge High School is thrilled to welcome back a familiar face from across the globe, as former Dutch foreign exchange student, Marieke Gilissen-Krikke, returned to our campus after an incredible 33-year journey. Gilissen-Krikke, originally from Pesse, Netherlands, some 3,678 miles away, spent a memorable year as an exchange student at JEHS during the academic year of 1989-90. Now, after more than three decades, Gilissen-Krikke has returned with her daughter, Kaatje Gilissen, to our school to reminisce, reconnect, and share the enduring impact of her experience. During her year at JEHS, Gilissen-Krikke quickly became a beloved member of our community. Her warmth, curiosity, and enthusiasm for embracing a new culture left an indelible mark on both students and staff alike. ...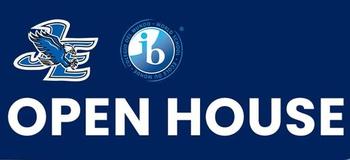 JEMS Open House:

Parents and guardians, please join us for our Jordan-Elbridge Middle School Open House on Thursday, October 5th from 6:00-7:30 p.m. @ JEMS. Each grade will have three family sessions: 6th grade families: 6:00-6:30: Meet your teacher team 6:30-7:00: Learn about the I.B. program 7:00-7:30: Meet your Arts, PE, Library and Design teachers 7th grade families: 6:00-6:30: Learn about the I.B. program 6:30-7:00: Meet your teacher team 7:00-7:30: Meet your Arts, PE, Library and Design teachers 8th grade families: 6:00-6:30: Meet your teacher team 6:30-7:00: Meet your Arts, PE, Library and Design teachers 7:00-7:30: Learn about the I.B. program Locations of each session will be displayed at the event. Please enter at the main entrance. We are excited ...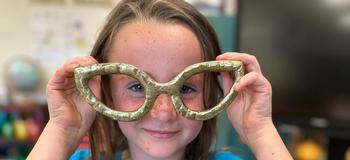 Golden Vision: EE Students Shine Bright with "Golden Glasses" Awards:

Elbridge Elementary is proud to announce the recipients of the disguinished "Golden Glasses" award for the month of September. This award celebrates the exemplary acts of selflessness and kindness exhibited by our outstanding students who have consistently gone above and beyond to make our school community a better place. In the third year since it's inception, the award started innocently enough when Principal Brooke Bastian's son, Cale, saw the glittering golden glasses on his mother's desk and proclaimed, "mommy, you should use these and call them the 'Golden Glasses' award for kids who are soaring!" In a world where acts of kindness are more crucial than ever, EE is thrilled to honor these young soaring Eagles' who have demonstrated ...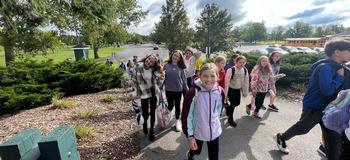 JEMS 6th Graders Embark on an Educational Adventure to Emerson Park:

Excitement was in the air as sixth-grade students from Jordan-Elbridge Middle School prepared for an enriching experience at Emerson Park in Auburn. On September 19, these young environmental enthusiasts embarked on a field trip as part of the Cayuga County Soil and Water Conservation Field Days Program. Emerson Park, a picturesque location nestled along the shores of Owasco Lake, provides the perfect backdrop for this immersive learning experience. The park's serene environment, lush greenery, and scenic lakefront offer an ideal setting for students to connect with nature while learning vital lessons about the environment. This annual event, co-sponsored by the Cayuga County Soil and Water Conservation District and Cooperative Extension of Cayuga County, is a fantastic opportunity ...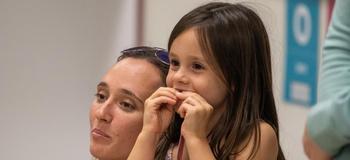 Elbridge Elementary Celebrates Success of Parent Info Night:

Jordan-Elbridge Central School District is thrilled to announce the resounding success of our recent Elbridge Elementary Parent Info Night event, held on September 21. The event brought together our dedicated educators and enthusiastic parents in a spirit of collaboration and shared commitment to the future of our students' education. Parent Info Night is designed to provide parents with a glimpse into their children's daily school experiences and to encourage open communication between home and school. This year's event was no exception, with parents and guardians turning out in large numbers to participate. Parents had the oppotunity to meet in a group setting with other parents, while also having a chance to meet one-on-one with their child's teachers to discuss ...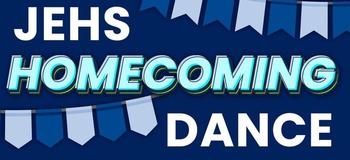 JEHS Homecoming Dance:

The Jordan-Elbridge Homecoming Dance will be Friday, September 22nd in the JEHS cafeteria from 8:30-11 P.M. Tickets will be $10 per student and they can be purchased during lunch mods from 9/15-9/22 or at the door, and snacks and drinks will be available to purchase for $1 each.
Next >> Viewing 1 - 20 of 354 stories